*This post may contain affiliate links. Please see my
disclosure
to learn more.
Let me share with you one of my favorite combinations thus far, raspberry jam overnight oats! Whether you select fresh or frozen, it doesn't matter in this vegan recipe.
When you diver deeper into the available options for raspberry overnight oats, you come to realize there are a wide variety of fun flavors to play around with. Not only that, but you get combine other beneficial ingredients to help promote a balanced meal that is wholesome and hearty.

From raspberry coconut overnight oats to raspberry mocha overnight oats, find combinations that you will enjoy eating everyday because it's been said that breakfast is one of the most important meals of the day. Start your week by assembling a batch of no cook oatmeal and then you will have a quick grab and go breakfast prepared for each day of the week.
Tart, tangy, sweet and nutritious, this breakfast idea has the perfect balance. Raspberries contain high levels of antioxidant nutrition, while the health benefit of oats fulfill other core essentials like plant-based protein, healthy fats and dietary fiber.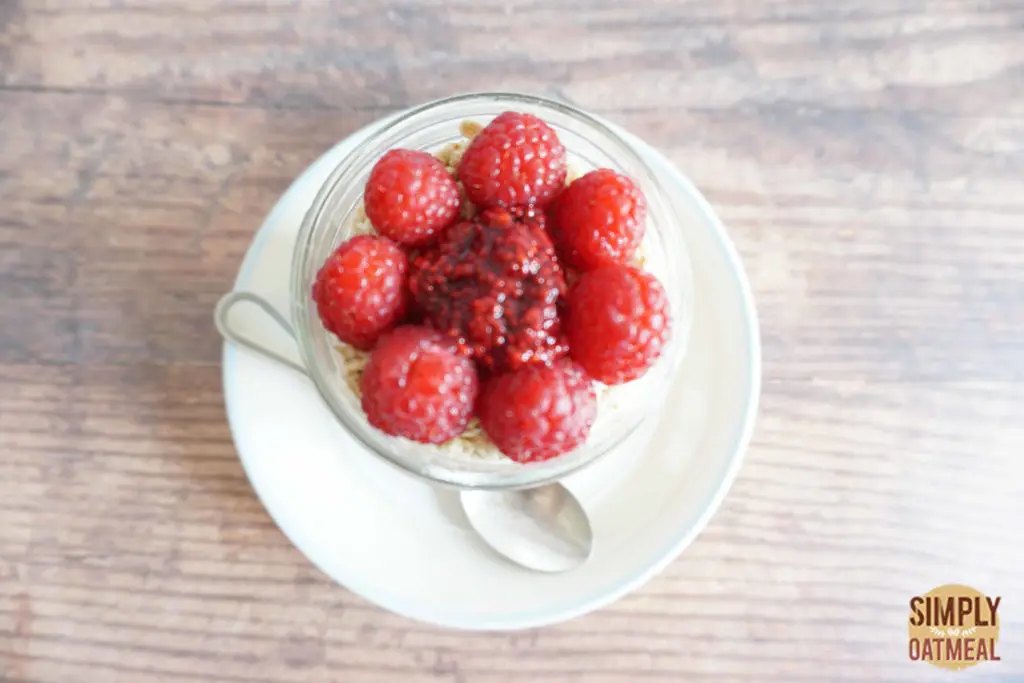 How to make raspberry jam overnight oats
As we already know, raspberries are bursting with sweetness, flavor, and tons of vitamins too. They make the perfect addition to oatmeal, so lets grab some raspberries along with a handful of other staples to make this easy 5-ingredient raspberry jam overnight oats recipe.

You may also like the 5-minute raspberry chia jam recipe! Not only is it easy to make, and only requires a few ingredients to make a tasty and flavorful jam that is so refreshing. Give it a try and you're sure to fall in love!
Raspberry jam Overnight Oats Ingredients:
Almond milk
Maple syrup
Almond butter
Raspberry jam
You have two options when it comes to making this recipe! First, combine everything together for an even and consistent taste all the way through. Second, soak the oats, and then layer the jam and almond butter in the middle of the oats.

Soak the oats by combining the rolled oats with almond milk and maple syrup. Allow this mixture to soak for 12 hours.
At the bottom of a mason jar, add some no cook oatmeal, then layer raspberry jam and almond butter. Repeat this pattern by adding more oatmeal followed by raspberry jam and almond butter.

You can play around with the oatmeal toppings to include sliced almonds for a crunchy texture, and fresh raspberries for more sweet and tart flavors. Coconut flakes, white chocolate or sliced banana would also be fun toppings to experiment with.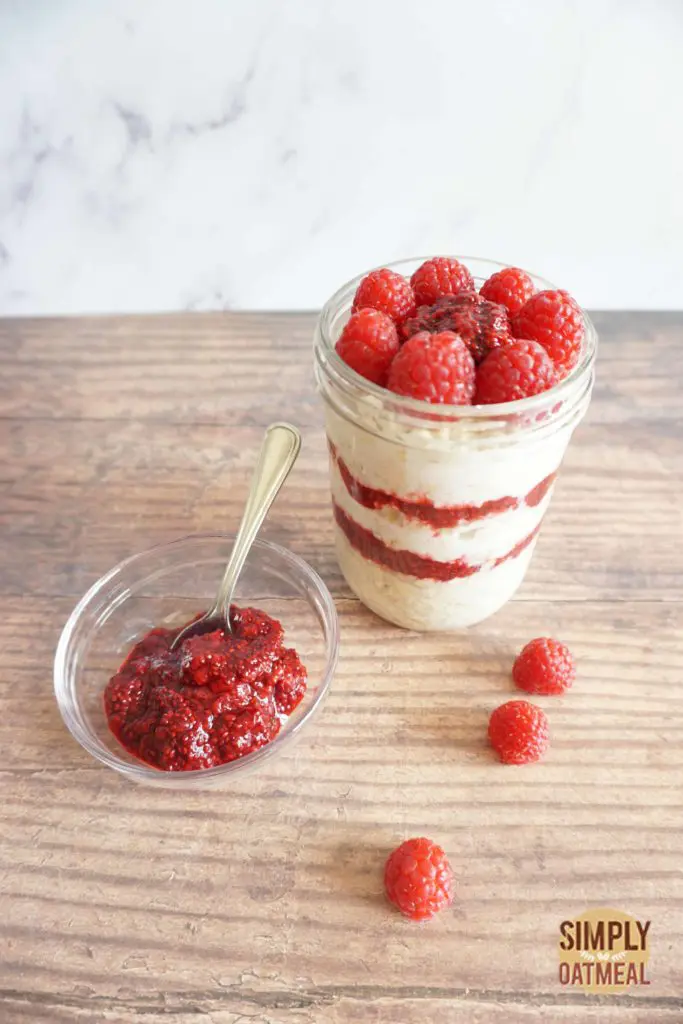 Raspberry Jam Overnight Oats Tips
Raspberry jam overnight oats are an easy and delicious vegan breakfast idea. Follow this recipe for a gluten-free treat that you will thoroughly enjoy in the morning. Here are tips you should remember next time you're assembling this no cook oatmeal recipe.
Rolled oats are the perfect type of oats to use in this recipe. Quick oats are too mushy, and steel cut oats are very chewy when soaked overnight.
If mixture seems too thick and pasty when it comes time to serve, just add a splash of almond milk to thin the mixture into a porridge-style oatmeal.
For a creamy texture, add a scoop of dairy-free almond yogurt. Not only does yogurt add creaminess, but the extra boost of protein is also an advantage.
For a healthy post-workout meal, add a scoop of protein powder or spoonful of chia seeds to give an extra nutrient boost.
Keep the 2:1 ratio of liquid to overnight oats for optimal consistency.
If you use a store bought jam, then you may not need any extra sweetness. However, if your using the raspberry chia jam recipe, then you may wants to sweeten the oats with maple syrup, agave, coconut sugar or another sweetener you really enjoy.
PLAN MORE DELICIOUS RASPBERRY OVERNIGHT OATS FOR NEXT WEEK: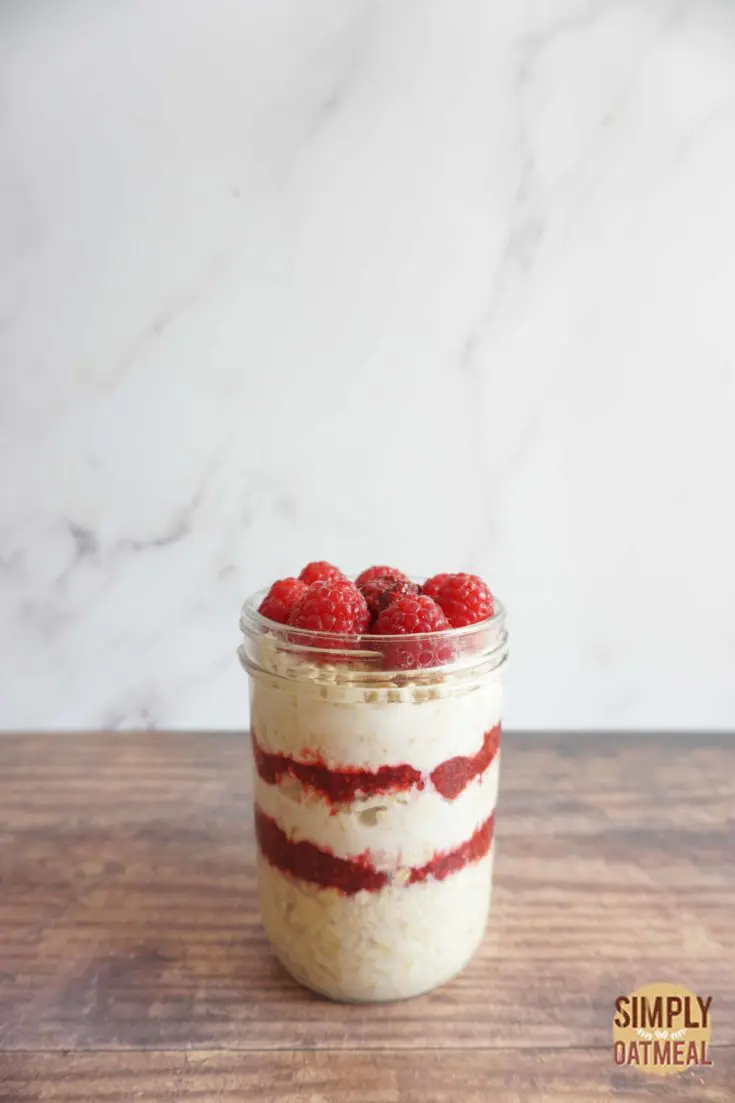 Yield:

1 serving
Raspberry Jam Overnight Oats Recipe
Whip up a batch of raspberry jam overnight oats for a delicious and healthy breakfast on the run. Meal prep in a mason jar for a quick grab and go breakfast during your hectic morning routine.
Combine the health benefits of oats with antioxidant rich raspberries. The vegan recipe is packed with plant-based protein, fiber and also essential vitamins and minerals.
The 5-ingredient no cook recipe is super easy to make and only take a few minutes to assemble. Make ahead on Sunday evening, and have a nutritious meal ready to eat for each day of the week.
Ingredients
½ rolled oats
1 tablespoon maple syrup
2 tablespoons raspberry chia jam
Instructions
Mix the rolled oats, almond milk and maple syrup in a medium sized bowl or mason jar.
Cover and refrigerate overnight for 12 hours.
To serve, layer almond butter and raspberry jam in between layers of the no cook oatmeal, or swirl it into the oats for a more consistent taste to each bite. Garnish with an extra spoonful of almond butter, raspberry chia jam, fresh raspberries, sliced almonds or whatever oatmeal toppings you feel like for the day.
Notes
This recipe is vegan, gluten-free and dairy-free!
The almond butter and raspberry jam can be layered in between the oats for a pretty presentation, or can be swirled into the oatmeal when preparing for a similar taste for every mouthful.
Add a splash more liquid if the oatmeal is too thick when serving.
The homemade raspberry chia jam was not super sweet. If you are using a store bought jam, check the sweetness before adding the maple syrup because it might not be necessary.
Recommended Products
As an Amazon Associate and member of other affiliate programs, I earn from qualifying purchases.
Nutrition Information:
Yield:
1
Serving Size:
1
Amount Per Serving:
Calories:

488
Total Fat:

25g
Saturated Fat:

2g
Trans Fat:

0g
Unsaturated Fat:

20g
Cholesterol:

0mg
Sodium:

21mg
Carbohydrates:

60g
Fiber:

11g
Sugar:

29g
Protein:

12g
Nutrition information isn't always accurate.