*This post may contain affiliate links. Please see my
disclosure
to learn more.
Are you an oatmeal enthusiast? If yes, then I am thrilled to share with you an interesting and highly nutritious overnight oats with oat milk recipe.
You may have already heard about different types of oat recipes for breakfast, and overnight oats have taken easy breakfast to a whole new level. The no cook recipe combines the nutritious benefits of both soaked oats as well as oat milk.
How do you make overnight oats with oat milk? Soak oats overnight with oat milk using a ratio of 1 part oats to 1½ parts liquid. This basic liquid to overnight oats ratio varies based on the add-ins that you add to the mixture before soaking and desired consistency of the no cook oatmeal.
This particular preparation will be healthy meal prep that you will find to be extremely practical and timesaving. Before you reveal the final recipe guidelines, I'd like to discuss the benefits of eating overnight oats with oat milk as well as some useful tips for preparing the particular dish.
Why make overnight oats with oat milk?
I can provide you plenty of reasons that prove why this recipe is really worth trying, but mainly this dish is extremely easy to make and packed with wholesome goodness.
If you are quite new to cooking or a novice in the kitchen, then this is one of the simplest and quickest recipe options that you should try once. This dish is easy to assemble and does not require any cooking.
Are you running behind a hectic time schedule? If yes, then you can consider preparing this dish the night before, then it will be ready to be served at your breakfast table within a snap.
What's more, this preparation is very much suitable for all those people who are lactose intolerant. If you or your family members do not prefer dairy based products, then you can definitely try this dairy free recipe.
Rest assured that this preparation will be completely vegan, lactose free, and soy free — all thanks to its core ingredients, whole grain oatmeal and oat milk.
This easy to prepare recipes is versatile and extremely delicious too. Please feel free to savor this dish and it will enlighten your tastebuds right away.
Benefits of eating overnight oats with oat milk
There are multiple health benefits of oats that you must note, in addition to the benefits of overnight oats vs cooked oatmeal. Let's now focus on why you should consider eating overnight oats with oat milk.
First of all, one key ingredient of this preparation is none other than oat milk. Oat milk is an excellent dairy free substitute for cow milk.
As you probably know that cow milk has high lactose content. Some of you may not prefer cow's milk, may be intolerant to lactose or looking for a vegan alternative.
In such a case, you can consider opting for another liquid option like oat milk, which will make the recipe equally delicious. In addition, it will ensure a wealth of nutritional benefits.
For example, oat milk is loaded with calcium as well as vitamin D. Both of these two components are the cornerstone for strong bones and better overall health.
Further, oatmeal even contains beta-glucan, which is a special type of fiber that may help lower cholesterol, improve digestion and has been proven to assist in weight loss.
Oat milk even features high vitamin B content which is responsible for improved memory, bone, and overall body function. Oat milk has a very low amount of saturated fat and that's why it's also really great for your heart health.
Another key component of this recipe is whole grain oats. As you probably know oatmeal contains a high amount of soluble fiber which makes it great for digestion.
Just like oat milk, oatmeal is also good for your heart health. It helps to regulate your blood sugar level as well as it reduces bad cholesterol.
Oatmeal features a solid nutrition profile that is loaded with essential antioxidants, minerals, and vitamins. It's great for your general health and can help prevent cancer too.
Considering the health benefits of oatmeal and oat milk, we must state that overnight oats are healthy when added sugars are kept to a minimum. That's why no cook oatmeal should definitely be added to your breakfast table frequently.
Specifically, for those who are lactose intolerant people, allergic to dairy milk or looking for vegan overnight oats recipes, this preparation is a must-try make-ahead breakfast option.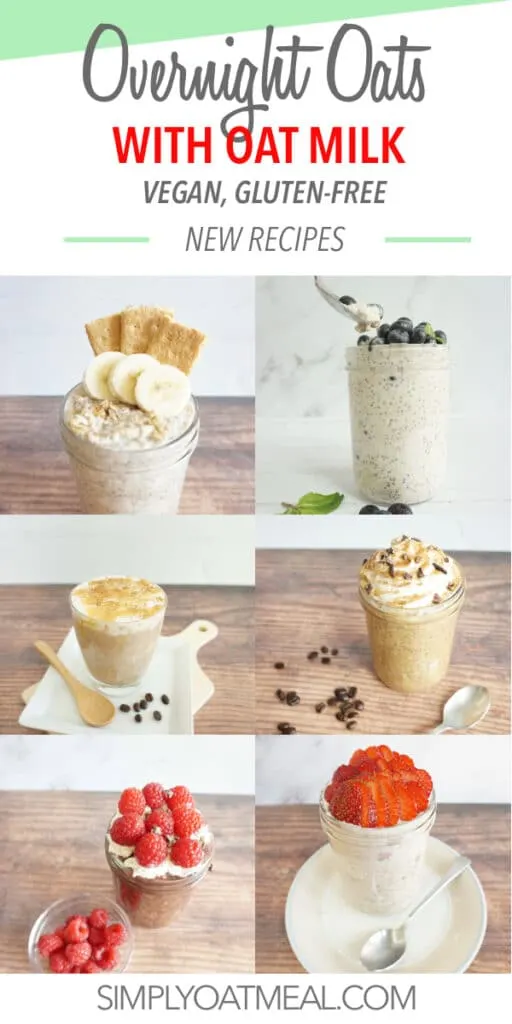 Tips for making overnight oats with oat milk
Food always taste better fresh, so I recommend that you make oat milk from scratch with this easy 5 minute recipe. Prepare the homemade oat milk first before you go ahead with assembling the recipe.
This is a healthy and extremely easy recipe that requires zero cooking or advanced skills. Still, you can follow the below tips for the best results each and every time you make overnight oats with oat milk.
Oats: For best results, use rolled oats for making overnight oats. Provide enough time so that the oats get soaked and their texture becomes softer and lighter. Old fashioned oats have been steamed and flattened with large rollers, there is more surface area and the oats soften as they soak. Steel cut oats are not processed, therefore the oatmeal is dense and extremely chewy when soaked. Quick oats are rolled thinner with fragmented pieces, so the smaller bits make it extra mushy when soaked overnight.
Fruit: Oats tend to be bland and unappealing, however the addition of fruit can change that equation quite quickly. Dried, fresh and frozen fruits are the easiest mix-in to vary a recipe without any cooking required. Mash a banana, grate an apple or throw in a handful of frozen blueberries into the overnight oats.
Nuts: Nuts come in the form of a dairy free milk alternative, butters or toasted and chopped garnish on top. Nuts are one of the easiest ways to increase protein in oatmeal with the addition of healthy fats. The nutty aroma and crunchy texture truly adds to the flavor of the soaked oats.
Seeds: Chia, flax and hemp seeds are some superfood ingredients that can be added to the soaked oats for added nutrition.
Sweetener: Added sugars are heard to stay away from when mixing up a batch of overnight oats, however it is the easiest way to turn a healthy meal prep into an unhealthy dish. Stick with natural sweeteners and avoid overdoing the recipe with empty calories. Maple syrup, mashed dates and honey are great options when used in moderation.
Protein: Oats contain plant based protein, however the amount is not enough to supplement your bodybuilding needs. If you are looking to increase the intake values, then add a scoop of protein powder to supplement your body with an amino acid boost.
Gluten free: Whole grain oats are naturally gluten free, however if you have an extreme sensitivity to wheat then it is recommended to purchase certified oats to avoid any cross contamination that occurs during the harvesting and packaging process.
Vegan: This overnight oats with oat milk recipe is vegan as long as you use dairy free milk and plant based yogurt. In addition, honey cannot be used to be truly free of animal byproducts, so substitute for a sweetener that you love most.
Make ahead: When mixed with oat milk, overnight oats are a healthy make ahead meal prep. Soak the oats with oat milk and place into an overnight oats container for a grab and go meal that is ready to eat.
Storage: Overnight oats do not need to be refrigerated if you are eating them the very next day. Leaving them at room temperature will cause fermentation which is a completely natural and healthy process. After one evening, place the oats in the fridge where they will stay fresh for up to 5 days, or freeze overnight oats for up to 6 months.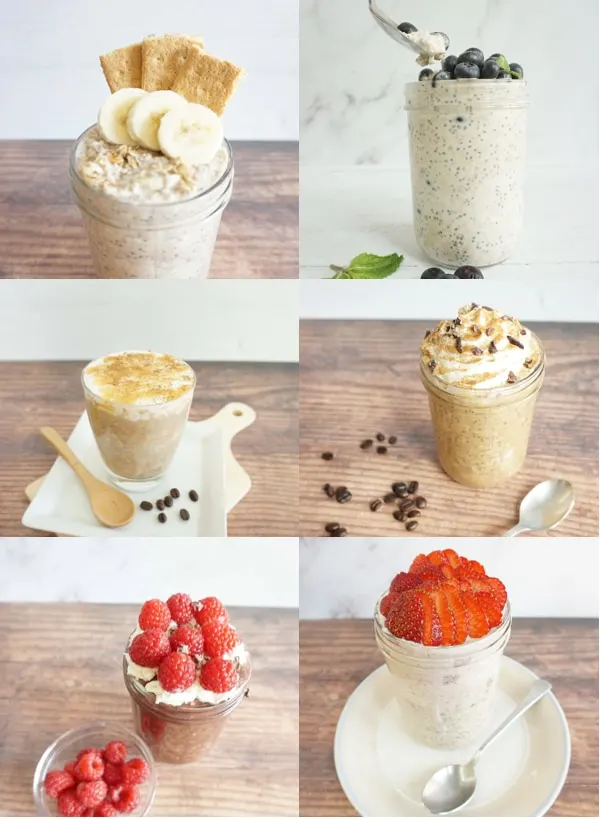 Yield:

1 serving
How To Make Overnight Oats With Oat Milk
Overnight oats with oat milk for a dairy free meal prep that is great to eat at any time of day. The recipe is super easy to make as it requires zero cokking and little effort.
Soak oats overnight with fruit, nuts and seeds for a balanced and nutritious meal prep. The no cook recipe is vegan, gluten free and taste great too..
Ingredients
Overnight Oats With Oat Milk Base Recipe
½ cup rolled oats
1 cup oat milk
1 tablespoon sweetener
¼ teaspoon vanilla extract
Apple Chia
½ cup grated apple
1 tablespoon chia seeds
¼ teaspoon cinnamon
Banana Yogurt
½ banana, mashed
¼ cup Greek yogurt
Blueberry Lemon
½ cup fresh or frozen blueberries
1 tablespoon lemon juice
1 tablespoon lemon zest
Raspberry Almond
½ cup raspberries
2 tablespoons sliced almonds
Strawberry Cheesecake
½ cup fresh or frozen strawberries
¼ cup Greek yogurt
⅛ cup cream cheese, softened
Raspberry Mocha
½ cup fresh or frozen raspberries
½ cup cold brew coffee
1 tablespoon cocoa powder
Instructions
Combine the ingredients in a small bowl and fold in all the mix-ins together.
Transfer the contents to a mason jar or overnight oats container.
Place the container in the fridge to fully soak for a minimum of 12 hours.
Before serving, give the no cook oatmeal a good stir and eat either hot or cold. Overnight oats can be heated in the microwave for a minute or warmed on the stovetop for about 3 minutes.
Adjust the consistency with a splash of oat milk if the oats have soaked up too much liquid. Garnish with oatmeal toppings you enjoy.
Notes
To make it vegan, use dairy-free milk, plant-based yogurt and avoid honey as a sweetener.
To make it gluten-free, use certified gluten-free oats.
To make it sugar-free, mash or puree fruit into the base mixture to for an irresistible natural sweetness instead of using too much refined sugar.
To maintain freshness, store the soaked oats mixture in an airtight container. It will stay fresh for about 5 days in the fridge or about 6 months in the freezer.
Recommended Products
As an Amazon Associate and member of other affiliate programs, I earn from qualifying purchases.
Nutrition Information:
Yield:
1
Serving Size:
1
Amount Per Serving:
Calories:

196
Total Fat:

3g
Saturated Fat:

1g
Trans Fat:

0g
Unsaturated Fat:

2g
Cholesterol:

3mg
Sodium:

23mg
Carbohydrates:

31g
Fiber:

4g
Sugar:

4g
Protein:

11g
Please note that the nutrition label provided is a rough estimate based on the basic overnight oats recipe. Overall nutrition will vary based on the specific ingredients and amounts you use. This information should not be considered a valid substitute for any professional nutritionist's advice. The nutrition value is for one serving without any additional toppings.
Best Overnight Oats With Oat Milk
Make overnight oats with oat milk for a rich and creamy recipe packed with flavor. The base recipe is customizable with your favorite flavor combinations, and this list share a few great ideas with you.
Upgrade your overnight oats with oat milk, and enjoy a dairy free preparation that is great to eat at any point throughout the day.