*This post may contain affiliate links. Please see my
disclosure
to learn more.
Enjoy the taste of strawberries and creaminess combined with the heartiness of overnight oats! Starting off the busy morning with strawberries, cream and whole grain oats is a great way to energize your mind and body.
Here are the best strawberry overnight oats that can be assembled in just 5 minutes. Meal prep individual batches in separate mason jars so that your grab and go breakfast is ready for each morning.

From strawberry lemonade overnight oats to strawberry chia overnight oats, we've come up with tasty oatmeal options that will satisfy your deepest hunger craving. The classic combinations blend so well with whole grain oats that you'll get little bites of goodness in every single bite.
You will love this strawberry and cream overnight oats because…
Take just 5 minutes to prepare this wholesome and hearty recipe.
Packed with whole grain nutrition including plant based protein, dietary fiber and healthy fats.
Healthy meal prep that'll energize your mind and body no matter when you eat it!
Perfect amount of sweetness and creaminess.
Tastes just like tarty strawberry cream pie blended with a hearty oatmeal base. It's magically delicious!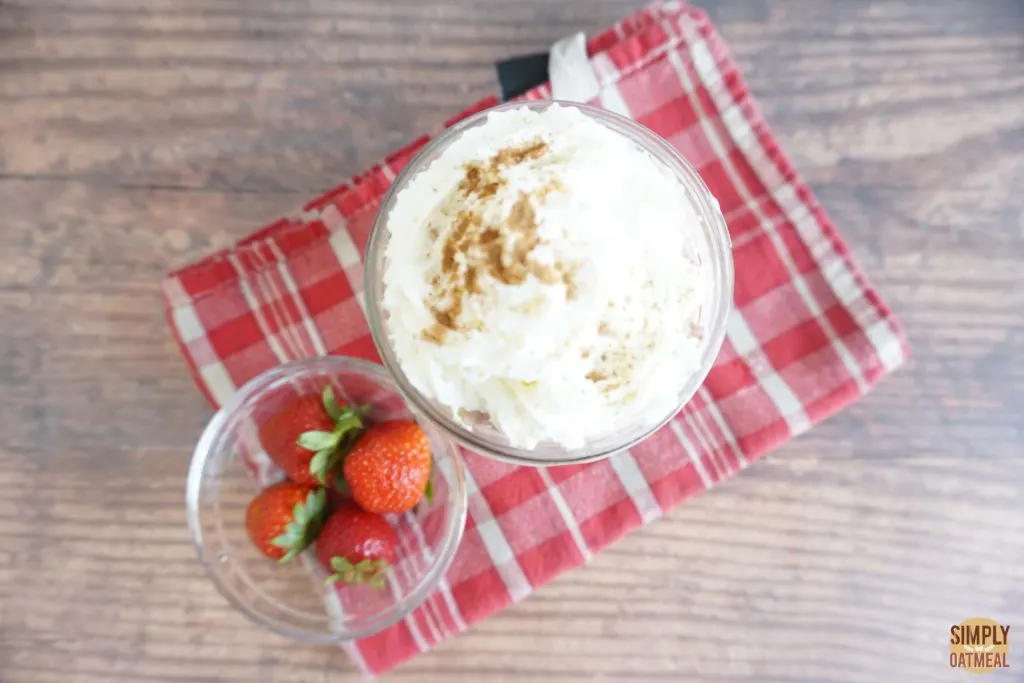 Start the day off on the right foot with overnight oats filled with heart-healthy benefits. In addition to being high in plant based protein and dietary fiber, oats also contain an array of essential vitamins and minerals. Give your body an antioxidant rich nutritional boost as part of your balanced diet plan.
How to make strawberry and cream overnight oats?
Depending on your preference, adjust the sweetness to match your desired taste. Prepare the oats ahead of time and store overnight in the fridge so that you awaken to a meal that is ready to eat the very next day.

It's just that easy!

Here are the 5-components that you need to get started:
Strawberry and Cream Overnight Oats Ingredients:
Milk
Greek yogurt
Strawberries
Honey
Mix the oats, milk, yogurt, strawberries and honey in a bowl or mason jar. Stir well so that the oats are fully coated with the flavorful liquid. Cover and store in the refrigerator overnight.

The next day, give the oats a good stir and then eat cold or heat up for a warm meal. Garnish with fresh berries, crushed nuts, toasted coconut, a sprinkle of cinnamon or your favorite oatmeal toppings.
Strawberry and Cream Overnight Oats Tips:
Calling all strawberry lovers! You're in the right place! Here are some tips and tricks to help you enjoy this strawberry and cream overnight oats so that you make it the best tasting oatmeal that you ever had:
Strawberry: Strawberries are packed with sweet flavor as well as being a nutritious source of rich antioxidants essential vitamins and minerals. Strawberries are a great compliment a balanced diet.
Oats: Rolled oats work better than quick oats or steel cut oats for this overnight oats recipe. Quick oats get mushy when soaked and steel cut oats are recommended for cooked preparations because they are extremely tough.
Liquid ratio: Overnight oats soak up lots of liquid, so 2:1 ratio of liquid to oats is the recommended guideline for a porridge-style soaked oatmeal. Adjust the consistency with a splash of liquid when it comes time to serve the oats.
Yogurt: Yogurt makes this oats extra creamy. Stick with a dairy free yogurt alternative if you are looking for a vegan recipe.
Seeds: Chia seeds, hemp seeds and flaxseeds are just some of the superfood seeds that are easily added to this healthy no cook recipe.
Vegan: Make it vegan by simply substituting for any dairy-free milk and yogurt alternatives. Also, exchange the honey for any sweetener you prefer.
Gluten free: Although oat are gluten free and considered celiac friendly, certified oats are recommended if you follow a strict wheat free diet.
Protein powder: Increase the nutritional value with a scoop of protein powder. Any brand of unflavored or vanilla supplement will provide a complimentary taste.
Sweetener: Sweeten the oats to meet your needs with any sweetener you prefer like maple syrup, coconut sugar, agave or stevia.
Give it a stir: Before serving, the no cook oatmeal should be stirred and then garnished with your favorite toppings. This will combine the flavors and provide a consistent mouthfeel throughout the oats.
Add-ins: Dried fruit, fresh fruit and crushed nuts will add a crunchy texture to the velvety smooth soaked oats. For more tasty ideas, check out this list of over 75 oatmeal toppings.
Storage: For a handy grab and go that you can eat anywhere, store the meal prep in the best overnight oats containers. The overnight oats will last up to 5 days when kept inside an airtight container in the refrigerator.
More strawberry overnight oatmeal recipes: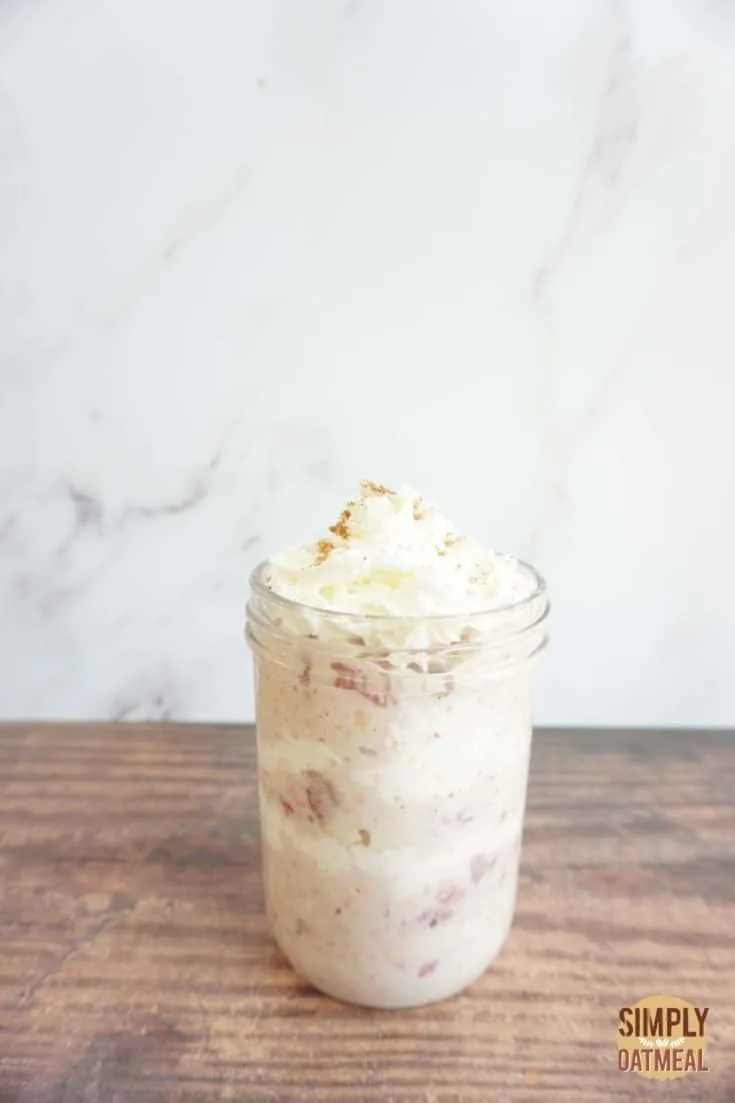 Yield:

1 Serving
Strawberry And Cream Overnight Oats Recipe
Strawberry and creams overnight oats is hearty meal that serves as a fantastic substitute for the classic dessert. Not only will it satisfy your craving for sweetness, but it will also leave you feeling full for the remainder of the day.
This gluten free recipe compliments the whole grain oats with the sweetness of strawberries and rich creaminess. Enjoy this tasty 5 ingredient recipe.
Ingredients
½ cup rolled oats
½ cup milk
¼ cup Greek yogurt
½ cup strawberries, diced
1 tablespoon honey
Instructions
In a medium sized bowl or overnight oats jar, combine the rolled oats, milk, yogurt, strawberries and honey. Stir well.
Cover with a lid and place in the refrigerator overnight.
In the morning, give the oats another stir and garnish with oatmeal toppings like extra strawberries, coconut flakes, chopped nuts or a dash of cocoa powder.

Notes
Make it vegan and gluten free!
Adjust the consistency and sweetness if necessary.
Store in the refrigerator for up to 5 days.
Recommended Products
As an Amazon Associate and member of other affiliate programs, I earn from qualifying purchases.
Nutrition Information:
Yield:
1
Serving Size:
1
Amount Per Serving:
Calories:

342
Total Fat:

5g
Saturated Fat:

2g
Trans Fat:

0g
Unsaturated Fat:

3g
Cholesterol:

13mg
Sodium:

88mg
Carbohydrates:

60g
Fiber:

6g
Sugar:

24g
Protein:

16g
Nutrition information isn't always accurate.