*This post may contain affiliate links. Please see my
disclosure
to learn more.
Apple and ginger are the perfect combination to complete a flavor explosion of sweet and spice. Boost your metabolism this fall with a hearty serving of apple ginger overnight oats, go ahead and give it a try for yourself.

This meal prep friendly apple ginger overnight oatmeal will only take you 5-minutes of your time. As a result, you'll end up eating a healthy and nutritious breakfast almost everyday during the fall and winter months.
There are a number of nutritional benefits from eating oats, apple and fresh ginger in this flavorful combination.

If you are looking to increase your meal prep ideas for breakfast or snacks, we've rounded up the most voted 14 apple overnight oats.Easily put these recipes together with ingredients you already have in your kitchen.

From apple and banana overnight oats to apple walnut overnight oats we have covered all the best apple flavored combinations. An apple a day keeps the doctor away, right?
How to make apple ginger overnight oats?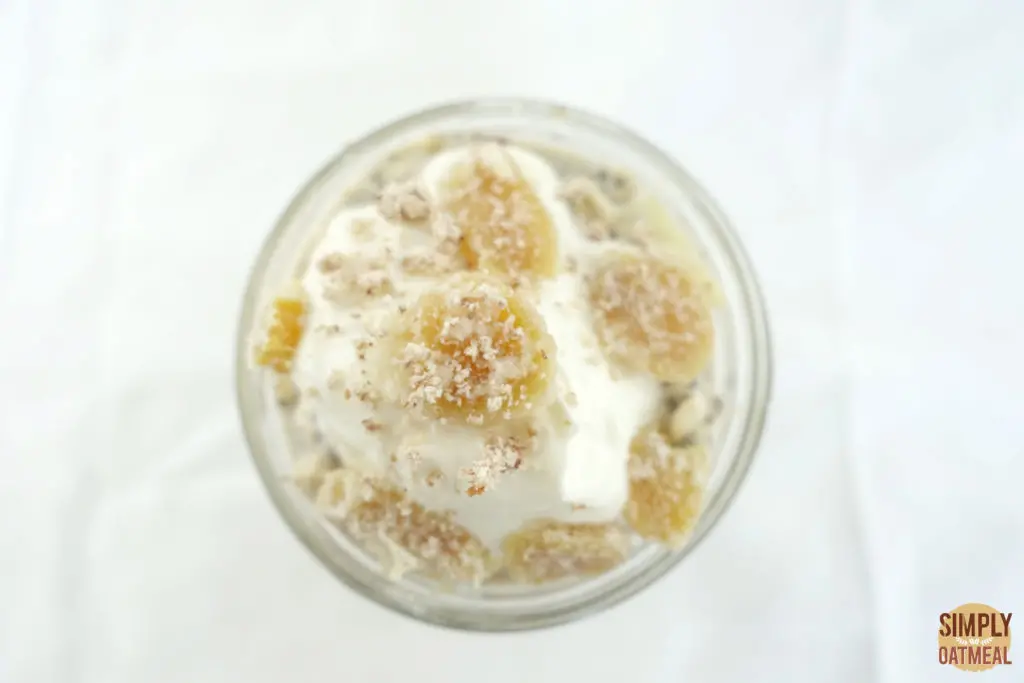 Overnight oats are so incredibly easy to make. Literally throw all the ingredients together the night before and eat the soaked oats as is in the morning!

For an extra kick, you can substitute apple ginger juice for the regular apple juice.

Pick your favorite kind of apple and prepare the short list of elements to finish up this oatmeal.
Apple ginger overnight oatmeal ingredients:
Apple juice
Greek yogurt
Chopped apple
Grated ginger
Sprinkle the top with candied ginger
In a classic mason jar, pour oats and the apple juice. Add chopped apples and yogurt. Mix well and allow the ingredients to sit in the refrigerator overnight for at least 12 hours before enjoying.

When serving this recipe, finish the top with homemade candied ginger for extra flavor and sweetness. Freshly prepared candied ginger is also guaranteed to satisfy your taste buds with an intense burst of spice.

Be creative and add sliced almonds or pecans for an additional nutty flavor and crunchy texture! Enjoy this meal as a breakfast or filling snack to fuel your body at anytime during the busy workweek!
Apple Ginger Overnight Oats Tips: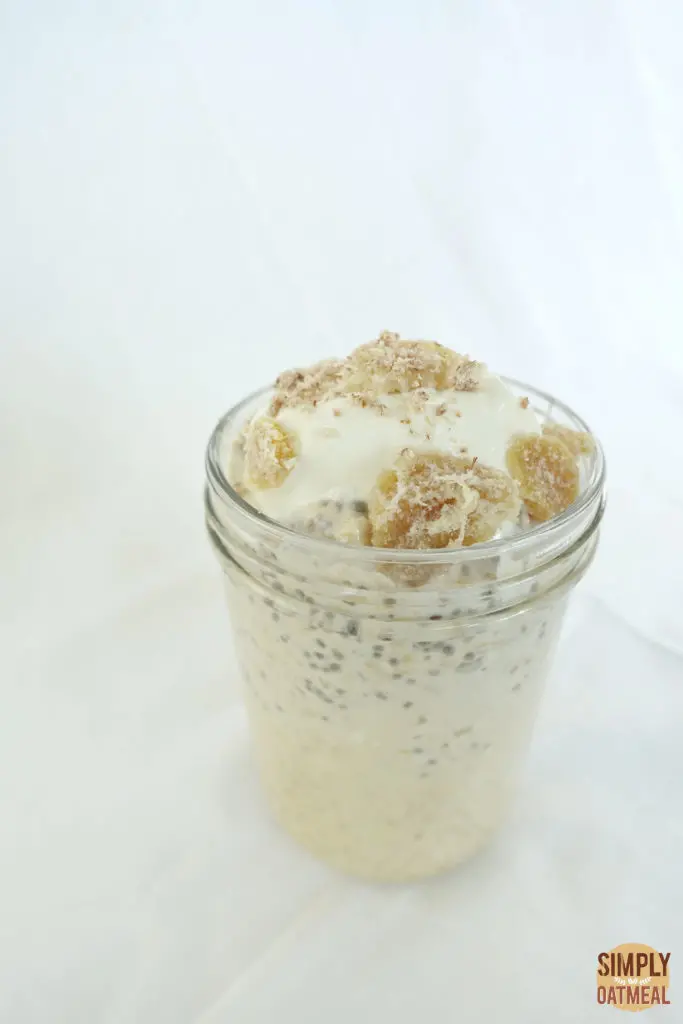 Here are some tips for you to vary up the apple ginger overnight oats. As a result, change up the flavor, temperate and consistency so that you don't get bored eating the same dish everytime.
Make the oatmeal creamier by adding a scoop of Greek yogurt. The protein packed addition has probiotics and calcium, which aid digestion, weight loss, and healthy bones.
Enhance flavor with a sprinkle of cinnamon, ginger, cocoa powder, and vanilla extract. They are low in calories and offer great health benefits at the same time.
Store a batch of apple ginger overnight oatmeal in a jar with a fastened top. The layered flavors and delicious looking toppings are both aesthetically pleasing and satisfyingly filling!
If you are topping the oatmeal with candied ginger, use unsweetened apple juice in order to reduce the added sugar within the mixture.
Add a scoop of chia seed for an extra gelatinous texture. Make sure to increase the overall liquid ratio according to the amount of jelly like texture you prefer.
Plan on also making these delicious apple overnight oats this week: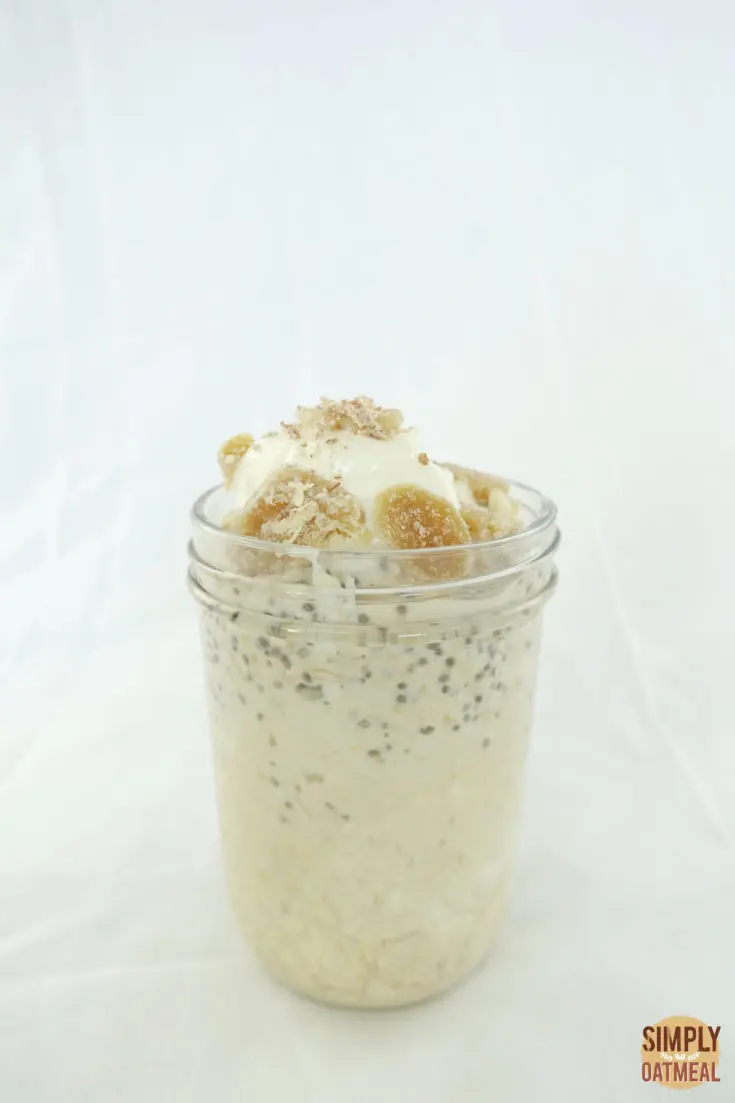 Yield:

1 serving
Apple Ginger Overnight Oats Recipe
Take your palate to the next level with this apple ginger overnight oats recipe. The sweet apple pair well with the spice of fresh grated ginger.
Not only are apple and ginger a classic flavor combination, but the recipe also provides a healthy boost to your immunity. Both ginger and apple have antioxidants and nutrients that are beneficial to overall health.
Take this apple ginger overnight oatmeal to the next level by topping the meal prep with homemade candied ginger. When made fresh, it does not even come close to comparing with the store-bought packages.
This recipe makes a delicious grab and go breakfast or semi-sweet afternoon snack. Either way it definitely provides energy to help you sustain throughout the day.
Ingredients
½ cup rolled oats
½ cup plain Greek yogurt, divided
½ cup apple juice
1 tablespoon grated ginger
½ cup chopped apple (1 small apple)
Instructions
In a medium-sized bowl or overnight oats jar, add the oats, apple juice, ¼ cup yogurt and also the fresh ginger.
Cover and store overnight in the refrigerator for at least 12 to 24 hours before consuming.
To serve, remove from the fridge and top with the remaining yogurt, diced apples, chopped pecans, candied ginger or your favorite oatmeal toppings!
Notes
The overnight oatmeal ratio serves up a very thick spoonable oatmeal. The additional yogurt does make for a creamy porridge-like oatmeal. However, feel free to stir in additional liquid to thin out the mixture when serving.
To make this recipe vegan, substitute the Greek yogurt for a dairy free alternative like almond or coconut yogurt.
For freshness and to ensure ingredients don't spoil, this overnight oats recipe should be consumed within 4-5 days of preparation. Enjoy!
Recommended Products
As an Amazon Associate and member of other affiliate programs, I earn from qualifying purchases.
Nutrition Information:
Yield:
1
Serving Size:
1
Amount Per Serving:
Calories:

314
Total Fat:

3g
Saturated Fat:

1g
Trans Fat:

0g
Unsaturated Fat:

2g
Cholesterol:

6mg
Sodium:

50mg
Carbohydrates:

55g
Fiber:

6g
Sugar:

22g
Protein:

17g
Nutrition information isn't always accurate.