*This post may contain affiliate links. Please see my
disclosure
to learn more.
When blueberry and banana meet overnight oats, then real magic happens. Each ingredient is packed with fiber and nutrients that is highly recommended for a balanced breakfast meal.
If you are looking for healthy ways to start the day, try our banana overnight oats recipes. You won't regret to try them because they require zero cooking or fancy equipment.

From chocolate chip banana overnight oats to mocha banana overnight oats, there are so many fun ways to enjoy leftover bananas. There is no need to throw over ripened bananas away, so give these tasty recipes a try!
Made with oats, coconut milk and maple syrup, this is a delicious and healthy breakfast you'll truly love. Assemble and let it soak overnight; a wholesome meal can't get any easier than overnight oats.

The no cook recipe is super simple to make ahead the night before. It's perfect at any time of day or when you need a little snack after a hard workout.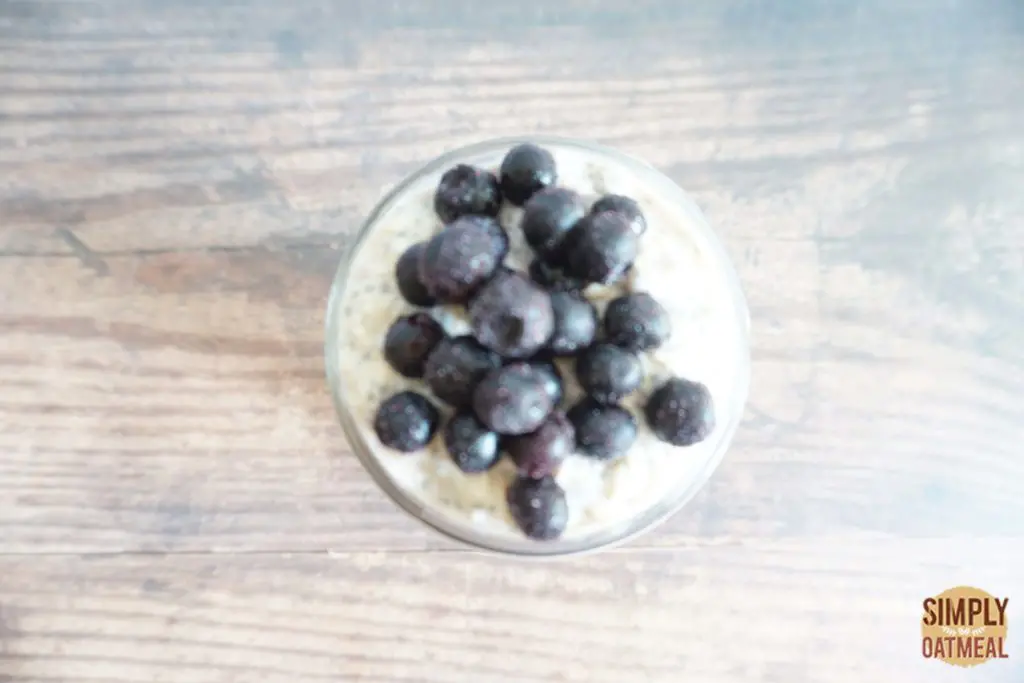 How to make blueberry banana overnight oats?
Combine oats with banana and blueberry flavored yogurt to make a delicious and healthy treat for breakfast. Assemble in a cup, bowl or meal prep container.

To make blueberry banana overnight oats, it requires no cooking skills or extravagant equipment. All it takes is this recipe and a few minutes to make it work!
Blueberry Banana Overnight Oats Ingredients:
Coconut milk
Chia seeds
Maple syrup
Vanilla extract
Banana
Blueberries
In a mason jar, mash the banana at the bottom using a fork, and then combine the rolled oats, coconut milk, chia seeds, maple syrup, and vanilla extract.

Place the lid on the container and store in the refrigerator overnight for a minimum of 12 hours.

To serve, stir the oats one time and add some extra coconut milk to thin the no cook oatmeal. Garnish with fresh or frozen blueberries and decorate with any oatmeal toppings that you desire.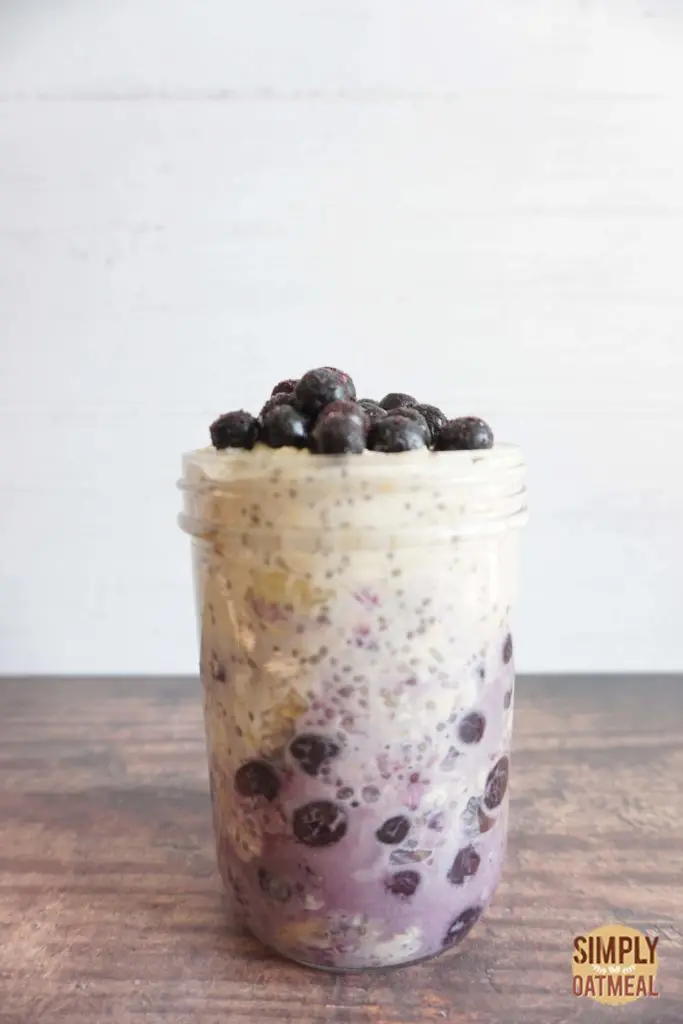 Blueberry Banana Overnight Oats Tips
Whether you use fresh or frozen blueberries to make this recipe, we've put together tips to make your oatmeal tasty from Monday to Friday. We want every bite to be as good or better than the last.
Choose old-fashioned rolled oats rather than quick oats. Rolled oats give creamy and smooth texture that goes well with blueberry. Quick oats are too mushy when soaked.
Stick to the 2:1 liquid to overnight oats ratio.
Store in refrigerator up to 5 days so you have meal prep ready to go for entire week.
Add a scoop of protein powder or almond butter for an extra boost to your post workout snack.
Always stir before topping your no cook oatmeal and serving. The bottom of the oats tends to be slightly mushy compared to the top where there is still a bit of a crunch left in the oats.
To make this recipe even sweeter, add chopped dried blueberries or even a spoonful of blueberry-chia jam.
NEED MORE BANANA OATMEAL RECIPE IDEAS? TRY THESE: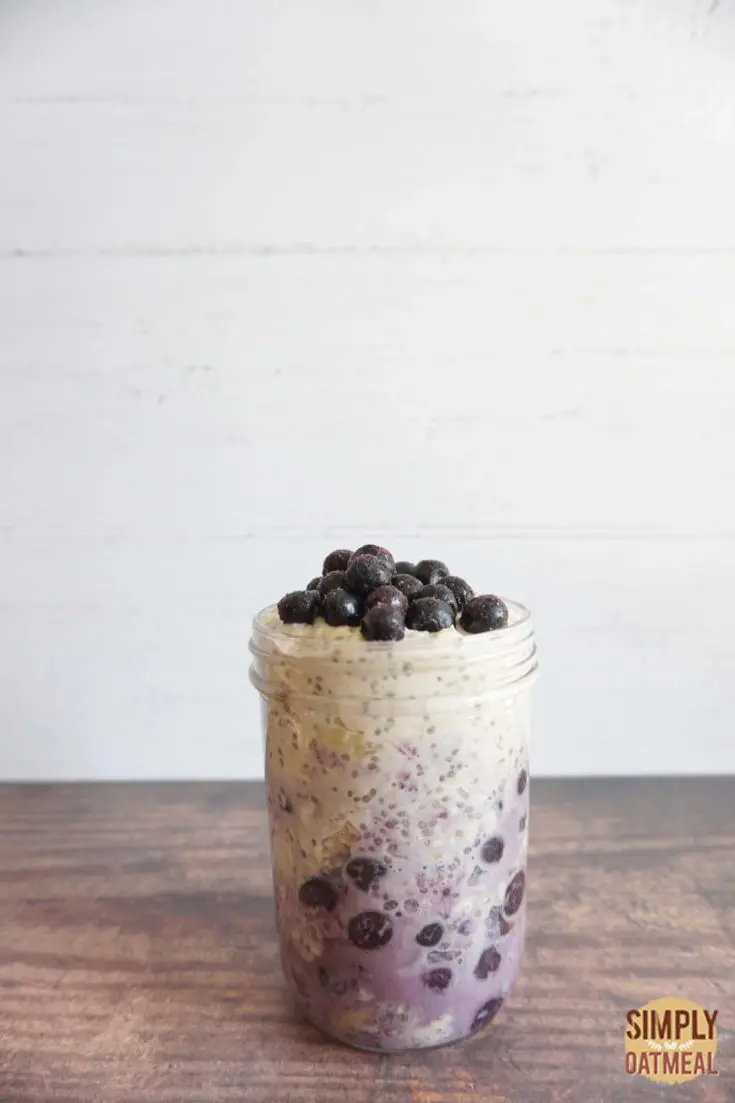 Yield:

1 serving
Blueberry Banana Overnight Oats Recipe
Blueberry banana overnight oats are a healthy meal that is super easy to make. Assemble the no cook oatmeal in just 5 minutes.
Blueberries and banana are a delicious combination. When combined with the health benefits of oats, you have a well-balanced meal.
Grab you meal prep jar and quickly put together a hearty serving. The very next day your grab and go meal will be ready and you can eat it for breakfast or even a quick afternoon snack.
Ingredients
½ cup rolled oats
¾ cup unsweetened coconut milk
1 tablespoon chia seeds
1 tablespoon maple syrup
¼ teaspoon vanilla extract
½ banana
½ cup blueberries
Instructions
In a medium sized bowl or overnight oats jar, mash the banana at the bottom using a fork.
Then, combine the rolled oats, coconut milk, chia seeds, maple syrup, and vanilla extract. Stir well so that the oats are fully coated with the flavorful liquid.
Cover with a lid, and store in the refrigerator overnight for at least 12 hours.
The next day, give the oats a quick stir and add a drizzle of maple syrup and a little extra coconut milk to loosen up the oats if desired. Add the blueberries on top.
Garnish with a spoonful of yogurt, shredded coconut, sliced almonds, lemon zest or your favorite oatmeal toppings.
Notes
This recipe is vegan, gluten free and dairy free!
Make adjustments to the 2:1 overnight oats water ratio. This is a general guideline and can be modified slightly to better suit your desired taste.
Enjoy within 5 days of preparation to maintain freshness.
Recommended Products
As an Amazon Associate and member of other affiliate programs, I earn from qualifying purchases.
Nutrition Information:
Yield:
1
Serving Size:
1
Amount Per Serving:
Calories:

395
Total Fat:

10g
Saturated Fat:

4g
Trans Fat:

0g
Unsaturated Fat:

5g
Cholesterol:

0mg
Sodium:

17mg
Carbohydrates:

71g
Fiber:

12g
Sugar:

27g
Protein:

9g
Nutrition information isn't always accurate.