*This post may contain affiliate links. Please see my
disclosure
to learn more.
Are you searching for a make-ahead, grab-and-go breakfast option? Especially if you are an oatmeal enthusiast, then overnight oats with chia is an amazing preparation to serve your tastebuds.
This is an extremely easy no cook recipe that yields nutrition and delicious goodness that you will enjoy. Overnight oats have become a healthy breakfast staple, and soaking chia seeds with oats is a simple way to integrate the nutrition packed superfoods into you diet.
How do you make overnight oats with chia seeds? Soak oats overnight with chia seeds using a basic ratio of 1½ part liquid to 1 part oats. This basic liquid to overnight oats ratio is adjusted based on consistency preference and mix-ins used, beware that the liquid will vary based on the amount of chia seeds you add to the overnight oats.
Do you need a recipe or are you interested in trying a delicious breakfast preparation? If yes, then please feel free to try this excellent dish; overnight oats with chia seeds are a highly recommended combination that you should try today!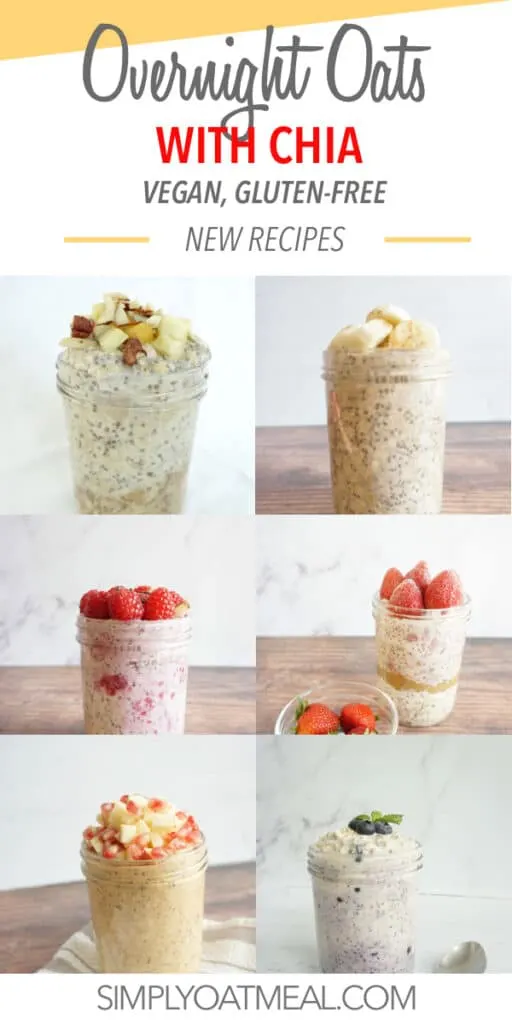 Why make overnight oats with chia seeds?
If you are wondering why you must try preparing this dish, then here's my list of findings to share with you!
Overnight oats with chia seeds are one of the most favorite breakfast options for all ages. If you are an oatmeal enthusiast, then you will definitely love this soft and creamy porridge style preparation.
The heavenly delicious combination of overnight oats with the delicate chew of chia seeds is ready to please your tastebuds. The best part is that it's a healthy, pre-made, grab and go meal.
Considering that most of you have a hectic work schedule, you may not have adequate time to prepare a complex or time-consuming recipe. Thus, you can feel free to try preparing this make ahead meal prep for a convenient grab-and-go the very next day.
There is zero cooking required, which ultimately saves you time and energy. The recipe does not require any hassles as you only combine ingredients and give it a quick stir, after soaking you will be ready to serve your appetite with such a delicious preparation.
As you clearly understand, the key ingredient of this preparation is soaked oats. Overnight oats are prepared when you soak the raw oats in a liquid for at least 12 hours to reduce phytic acid.
Overnight oats do not need be cooked. That's because — the texture of the oats becomes soft, palatable and easy to digest.
Thus, if you are searching for a no-cook method of making oatmeal, then this recipe surely deserves your attention. Simply mix rolled oats or old-fashioned oats with chia seeds, soaking liquid and mix-ins, then let it sit overnight.
In the morning, you will get a pudding-like porridge consistency of soaked oats that's so apt for a quick grab-and-go breakfast. Apart from minimized preparation time and zero cooking hassle, the recipe offers a delicious creamy taste that is ready to enlighten your tastebuds with a wholesome meal.
Benefits of eating overnight oats with chia seeds
Chia seeds are an excellent source of fiber, antioxidants, and omega-3 fatty acids. If you mix overnight oats with chia seeds, it will help thicken the consistency of no cook porridge and make the recipe even creamier, and more satisfying.
Please note that oats feature a well balanced nutritional composition as well. For example, it contains beta glucan (a special kind of fiber) that can lower your cholesterol levels, make your heart healthier and the added feeling of fullness helps to assist in weight loss.
When you soak chia seeds with overnight oats, chia seeds will absorb the liquid. By absorbing the liquid, chia seeds will swell and thicken up the oatmeal mixture.
The chia seeds double in size by filling with liquid, and they pop in your mouth when you chew on them. And, at the same time, it will even add some filling fiber to your recipe.
In addition to thickening up the mixture, chia seeds will even supply more calcium and phosphorus. At the same time, oats are a perfect source of magnesium, thiamin, zinc, iron, and phosphorus.
Considering the nutrition profile of both chia seeds and oats, it is fair to say that the combination of these two ingredients features one of the most unique, delicious, and healthy preparations available without much effort.
So, please feel free to try this no hassle recipe at least once!
Tips for making overnight oats with chia seeds
Prepare the overnight oats by soaking oats with liquid for a minimum of 12 hours, this helps to reduce the phytic acid present in the oats. Ideally the soak is best left overnight so that the texture becomes softer and the oats are palatable for breakfast the next day.
Just follow this overnight oats with chia seed recipe and use these tips for an incredibly healthy meal prep that is ready to eat at anytime of day.
Oats: Overnight oats are best when prepared with rolled oats. Regular or old fashioned oats are steamed and then rolled flat using heavy rollers, the flattened flakes have a larger surface area which absorbs the liquid much easier. Steel cut oats are dense kernels that are extremely chewy when soaked. Quick oats are fragmented pieces that get very mushy when let to soak.
Yogurt: Add a touch of tang and creaminess to the soaked oats by adding a spoonful of yogurt. Regular yogurt adds excess moisture, so opt for a strained or Greek style yogurt that has much of the liquid extracted. Flavor is up to you, but plain or vanilla goes with almost every combination of flavors.
Fruit: Dried, fresh and frozen fruits are easy options to mix into or add on top of the overnight oats. When the fruits are mixed into the oats while soaking, the base mixture has a tendency to bleed color, especially in berries. There is nothing wrong with the change of color when diced apples or mashed banana oxidizes and turns slightly brown, eat up and enjoy the extra flavor!
Nuts: Creamy nut butters, crunchy chopped nuts or dairy free milk alternative, nuts can be used in many ways. Additionally, toast them for extra nutty aroma. Nuts add healthy fats and also increase protein levels in oatmeal.
Seeds: Use good quality chia seeds. It's recommended to use ground chia seeds rather than using whole chia seeds. Whole chia seeds do not have the same thickening properties, but they do swell up with liquid and add a nice chewiness that is similar to mini boba balls.
Sweetener: Adding too much sugar is a guaranteed way to have an adverse effect on the nutritional benefits of eating oats. Try your hardest to use natural sweeteners and keep the processed sugars to a minimum.
surefire way to backfire the nutritional benefits of eating oats. It's best to stick with natural sweeteners like. Maple syrup, honey and dates are great options, but you should select a sweetener you enjoy.
Protein: Oats are a source of plant based protein, however the content is not dense. Therefore, it is common to supplement with protein powder for an additional boost. Don't hesitate to add a scoop to your overnight oats with chia seeds for a bit extra.
Gluten free: Even though oats are naturally gluten free, it is recommended to use certified oats to avoid the risk of cross contamination during the harvesting and packaging process used for similar wheat based grains.
Vegan: When overnight oats are made with dairy free milk, plant based yogurt and without the use of honey, then they are generally free of any animal byproducts. Here are vegan overnight oats recipes that you can add a tablespoon of chia seed too.
Make ahead: Prepare overnight oats in advance for a healthy meal prep that is ready to eat whenever you need a quick bite. Combine the overnight oats with chia seeds and store in an overnight oats container for an easy grab and go at any time of day.
Storage: If you are soaking oats to eat the very next morning, then the overnight oats do not need to be refrigerated. When kept in the fridge, they will last for about 5 days. Otherwise, freeze overnight oats mixed with chia seeds for up to six months.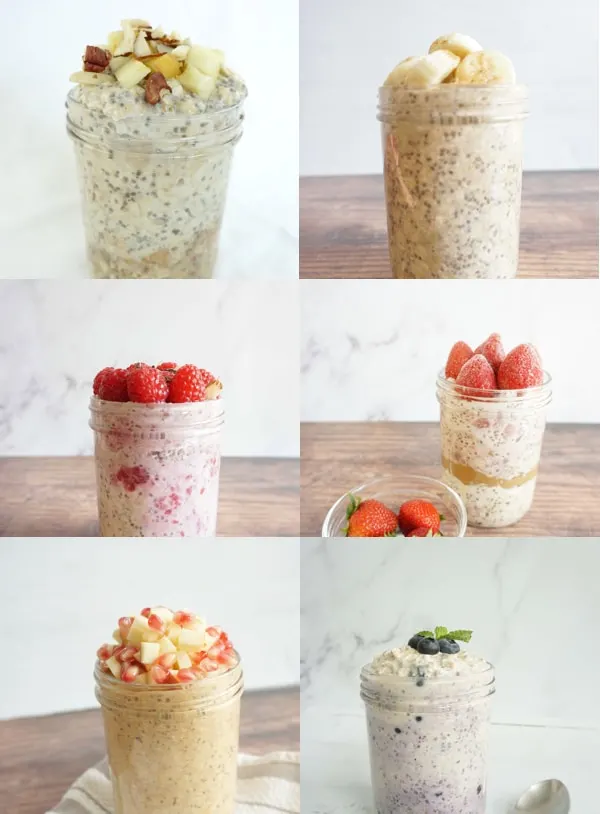 Yield:

1 serving
How To Make Overnight Oats With Chia Seeds
Overnight oats with chia seeds for a wholesome, hearty and healthy meal prep that is perfect to eat at any time of day. The no cook recipe is easy to make and requires minimal effort.
Soak oats overnight with chia, fruit and nuts for a healthy meal prep. The recipe requires zero cooking and taste great too..
Ingredients
Overnight Oats With Chia Seeds Base Recipe
½ cup rolled oats
1 cup liquid
2 tablespoon chia seeds
1 tablespoon sweetener
¼ teaspoon vanilla extract
Apple Cinnamon
½ cup grated apple
¼ teaspoon cinnamon
Chocolate Peanut Butter Banana
½ banana, mashed
1 tablespoon cocoa powder
Blueberry Lemon
½ cup fresh or frozen blueberries
1 tablespoon lemon juice
1 tablespoon lemon zest
Raspberry Almond
½ cup raspberries
2 tablespoons sliced almonds
Strawberry Yogurt
½ cup fresh or frozen strawberries
¼ cup vanilla Greek yogurt
Green Tea Latte
2 tablespoons half and half
1 teaspoon matcha powder
Instructions
In a small bowl or mason jar, combine the ingredients and fold in all the mix-ins.
Store the overnight oats container in the fridge for a minimum of 12 hours to allow the oats to fully soak.
To serve, stir the no cook oatmeal. The make ahead meal can be eaten either hot or cold. Either heat in the microwave for a minute or warm in a pot on the stovetop for 3 minutes.
If the chia seeds soaked up too much liquid, then add a splash of liquid to thin out the consistency. Garnish with your favorite oatmeal toppings.
Notes
To make it vegan, by using dairy-free milk, plant-based yogurt and stay away from honey as a sweetener.
To make it gluten-free, by selecting gluten-free oats.
To make it sugar-free, mash or puree fruit into the base mixture to add natural sweetness instead of using too much added sugar.
To maintain freshness, keep the soaked oatmeal mixture in an airtight container. Overnight oats will stay fresh up to 5 days in the fridge or about 6 months in the freezer.
Recommended Products
As an Amazon Associate and member of other affiliate programs, I earn from qualifying purchases.
Nutrition Information:
Yield:
1
Serving Size:
1
Amount Per Serving:
Calories:

196
Total Fat:

3g
Saturated Fat:

1g
Trans Fat:

0g
Unsaturated Fat:

2g
Cholesterol:

3mg
Sodium:

23mg
Carbohydrates:

31g
Fiber:

4g
Sugar:

4g
Protein:

11g
Please note that the nutrition label provided is a rough estimate based on the basic overnight oats recipe. Overall nutrition will vary based on the specific ingredients and amounts you use. This information should not be considered a valid substitute for any professional nutritionist's advice. The nutrition value is for one serving without any additional toppings.
Best Overnight Oats With Chia Seeds
Make overnight oats with chia seeds for a superfood packed meal prep. This healthy recipe is packed with nutrition, and features flavorful combinations that you will never get bored of eating.
Upgrade your overnight oats with a tablespoon of chia seeds for an additional boost of nutrition. The make ahead meal is packed with vitamins, minerals and antioxidants that provide you with an added supplement to meet your nutritional goals.