*This post may contain affiliate links. Please see my
disclosure
to learn more.
Overnight oats with protein powder is indeed one of the perfect make-ahead breakfast options. The healthy meal prep can be prepared in just just five minutes and it will last for up to five days when stored in the refrigerator.
Don't have enough time to prepare breakfast before heading to work? No worries, I'll suggest you make a batch of overnight oats at the beginning of the week, and add a scoop of protein powder so that you'll have an easy breakfast every morning without any extra hassle.
How do you make overnight oats with protein powder? Soak oats overnight with protein powder using a ratio of 1½ part liquid to 1 part oats. This basic liquid to overnight oats ratio is adjusted based on taste preference and mix-ins, so beware that the liquid may vary based on the amount of protein powder you add to the overnight oats.
This overnight oats with protein powder recipe can be served cool or gently warmed up if you'd like. It tastes so refreshing and delicious that your tastebuds are going to savor every bite.
Interested to know more about this recipe? If yes, then continue reading as I have shared all the details about this recipe preparation in the sections below.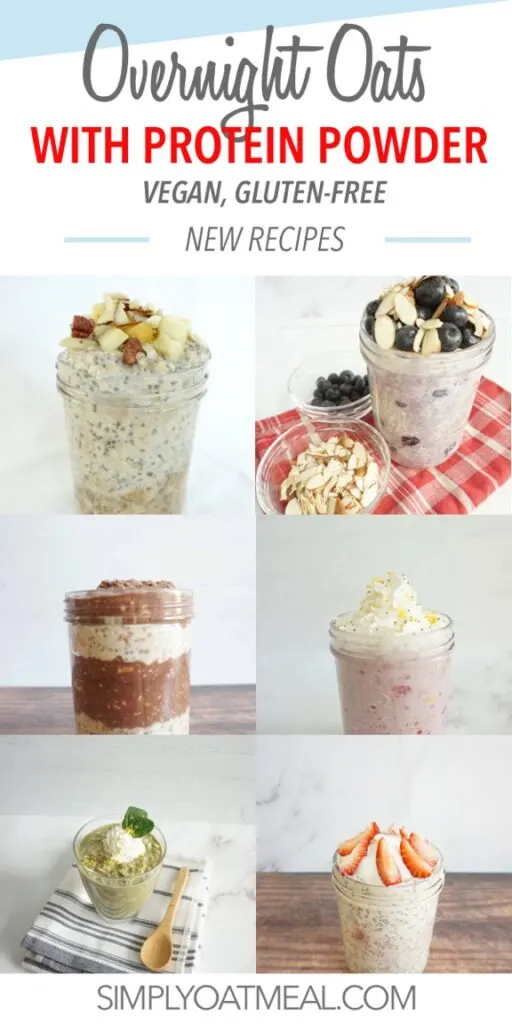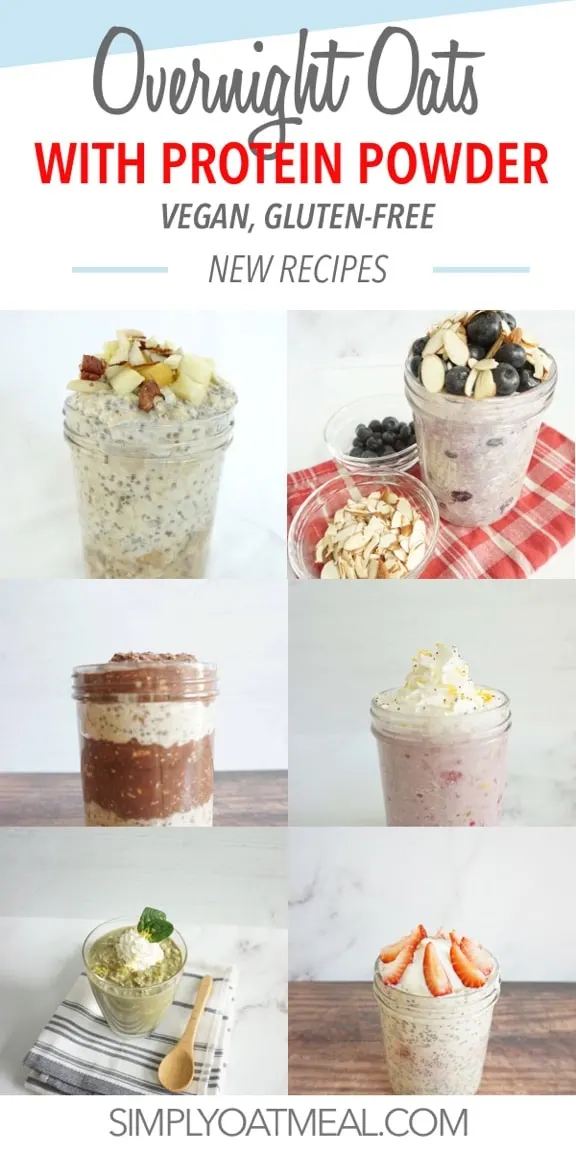 Why make overnight oats with protein powder?
Overnight oats with protein powder have some amazing advantages. For example, the incredible health benefits of oats and nutrition value can't simply be overlooked.
Plus, the key benefit of this recipe is that it supplies increased protein levels to your body. If your diet does not have enough protein content, or you're on a high protein regime to supplement your bodybuilding goals, then please feel free to try this recipe to add protein to oatmeal with a simple yet highly nutritious twist.
Other than that, this recipe is pretty basic. So, if you are someone who loves to enjoy the traditional overnight oats preparations, then this recipe will be so apt for you!
Please feel free to add your favorite protein powder to this preparation and elevate its taste. On quick note, there are different types of protein powders for oatmeal that blend well with this recipe.
Blends and flavor combinations are indeed one of the most interesting parts of this recipe. You can play around with your preferred protein powder and make this dish customized as per your needs, including chocolate protein powder, vanilla protein powder, vegan protein powder, and whey protein powder.
The super delicious combination of chocolate protein powder and overnight oatmeals will be ready to enlighten your tastebuds, however you can blend your favorite protein powder flavor with the soaked oats.
Benefits of eating overnight oats with protein powder
There are multiple health benefits of trying this recipe. You must be already aware of the superb benefits of overnight oats compared to cooked oats.
Oats are a healthy staple, and they are better than raw oats because soaked oatmeal offers better nutrient and fiber contents. They are easy to prepare and palatable, the foundation of this recipe is based on overnight oats being easy to digest.
So, if you or your family has digestion issues, then the high fiber content in the oats will benefit you, while the protein supplement will give you the muscle building amino acids that you're looking for.
Protein is an essential macronutrient that builds muscle, performs tissue repairs, and helps your body to produce enzymes and hormones. Another important benefit of this preparation is that it contains protein powder that provides an increased blend of essential nutrients.
Protein powder is an absolute must for those people who are following a muscle building regime. Please note that protein powder has direct benefits for those people who are aiming to gain muscle mass through bodybuilding.
Ensure that you use protein powder from a reputable brand that offers a blend of top quality ingredients. Whey protein is not vegan or plant based, so understand the type that you have selected before
Tips for making overnight oats with protein powder
Realize that protein powder will affect the basic overnight oats ratio, therefore it is recommended to start with a 2:1 liquid to oats ratio. In the morning, if the recipe becomes too much thick and dense, then you can easily make it thinner by adding your choice of liquid.
Furthermore, the oats should be soaked for a minimum of 12 hours in order to reduce phytic acid in overnight oats.
Soaking oats with protein powder has become a popular meal prep, however there are a few basic tips that you should follow:
Oats: Protein powder does not affect the oats, and it is important to use either rolled or old-fashioned oats to prepare overnight oats for the better taste and texture. Regular rolled oats have been steamed and flattened, so they are not fully raw when you consume them. Additionally, the oats are rolled thin which exposes the larger surface area to more liquid to make them soft and chewy. Steel cut oats do not soak very well as they are too thick and dense. Quick oats get extremely mushy and do not present the best mouthfeel.
Fruit: Choose a fruit that meshes well with the protein powder that you select. Chocolate and vanilla flavorings go with just about any fruit, so have at it.
Nuts: If you are looking for flavor, texture and to further increase the protein in oatmeal, then go nuts! Nut milks, butters and chopped or toasted, there are many ways that the ingredient can be successfully added to your overnight oats.
Sweetener: Be careful with the sweetener as many protein powder blends include a large amount of sweetness. Overnight oats are healthy, however adding too much sugar is a way to quickly alter the benefits.
Protein powder: Among the various kinds of protein powders available, the vanilla protein powder blends so well with overnight oatmeals. However, if you are a chocolate lover, then you can use chocolate protein powder too. From plant based vegan to milk based whey, there are different types of protein powders to choose from. Beware that plant proteins do not dissolve in liquid as well as the whey protein, so a chalky residue may affect the taste of the mixture.
Gluten free: The overnight oats recipe is wheat free as long as the protein powder is gluten free. Oats are naturally gluten free, however it is best to select certified oats to avoid the risk of cross contamination that occurs during the harvesting and production of the grain.
Vegan: As previously mentioned, there are plant based protein powder options. They are made with soy, peas or any combination of nuts and legumes. In addition, you will need to stick with a dairy free milk and plant based yogurt. Honey is another animal byproduct that needs to be substituted for your favorite sweetener.
Make ahead: Make and store this preparation in a sealable container like a mason jar or container with a lid. Combine the oats with liquid and protein powder, then store in an overnight oats container for a meal ready to eat at any time of day.
Storage: Overnight oats do not need to be refrigerated if they are going to be eaten the very next day and you are not using perishables like milk or yogurt. The mixture can be refrigerated right away and will last from up to 5 days or you can freeze overnight oats for up to 6 months.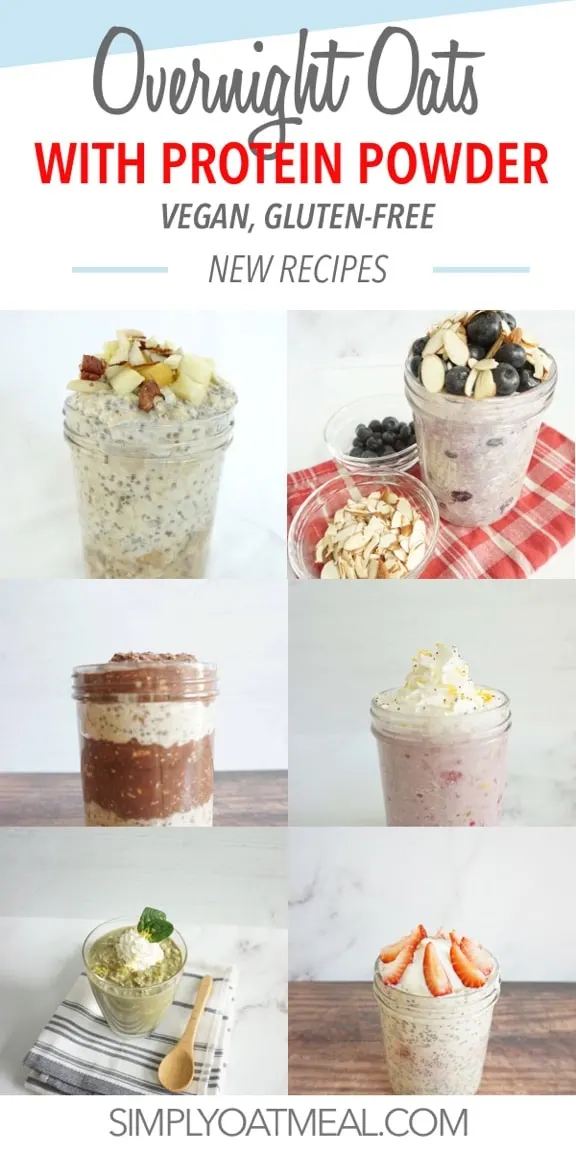 Yield:

1 serving
How To Make Overnight Oats With Protein Powder
Overnight oats with protein powder for a healthy meal prep to eat at any time of day. The no cook recipe is perfect for anyone looking to boost their protein intake.
Soak oats overnight with protein powder for a quick and healthy meal prep. The no cook recipe is easy to make and super tasty to eat at any time of day.
Ingredients
Overnight Oats With Protein Powder Base Recipe
½ cup rolled oats
¾ cup liquid
1 scoop protein powder
1 tablespoon sweetener
¼ teaspoon vanilla extract
Apple Chia
½ cup grated apple
1 tablespoon chia seeds
¼ teaspoon cinnamon
Blueberry Almond
½ cup blueberries
2 tablespoons sliced almonds
Chocolate Peanut Butter Banana
½ banana, mashed
1 tablespoon cocoa powder
Lemon Raspberry
½ cup fresh or frozen raspberries
1 tablespoon lemon juice
1 tablespoon lemon zest
Strawberry Vanilla
½ cup fresh or frozen strawberries
¼ cup vanilla Greek yogurt
1 tablespoon chia seeds
Green Tea
Instructions
In a small bowl or overnight oats container, mix together all the ingredients. Stir well to combine all the mix-ins.
Place the container in the fridge for a minimum of 12 hours.
To serve, stir the no cook oatmeal and it can be eaten either hot or cold. Overnight oats can be heated in the microwave for a minute or warmed on the stovetop for 3 minutes.
If necessary, add a splash of liquid to loosen the consistency. Garnish with oatmeal toppings that you enjoy.
Notes
To make it vegan, use dairy-free milk, plant-based yogurt and stay clear of using honey as a sweetener.
To make it gluten-free, use gluten-free oats.
To make it sugar-free, mash or puree fruit into the base mixture to add natural sweetness instead of using too much sugar.
To maintain freshness, store the oatmeal mixture in an airtight container. Overnight oats will last for up to 5 days in the fridge or up to 6 months in the freezer.
Recommended Products
As an Amazon Associate and member of other affiliate programs, I earn from qualifying purchases.
Nutrition Information:
Yield:
1
Serving Size:
1
Amount Per Serving:
Calories:

496
Total Fat:

3g
Saturated Fat:

1g
Trans Fat:

0g
Unsaturated Fat:

2g
Cholesterol:

3mg
Sodium:

23mg
Carbohydrates:

31g
Fiber:

4g
Sugar:

4g
Protein:

26g
Please note that the nutrition label provided is a rough estimate based on the basic overnight oats recipe. Overall nutrition will vary based on the specific ingredients and amounts you use. This information should not be considered a valid substitute for any professional nutritionist's advice. The nutrition value is for one serving without any additional toppings.
Best Overnight Oats With Protein Powder
Make overnight oats with protein powder for a rich, creamy and nutritious dish. This recipe is packed with protein, and features a unique flavor combinations that you will never get bored of eating.
Upgrade your overnight oats with a scoop of protein powder for an additional nutritional boost. The muscle building boost will provide the added supplement to meet your daily nutritional goals.