*This post may contain affiliate links. Please see my
disclosure
to learn more.
Are you looking for a sweet, creamy, and indulgent breakfast option that features healthy ingredients? If yes, then overnight oats with almond milk is going to be the perfect fit for you.
Get ready to explore one of the easiest and most heavenly delicious breakfast options for you and family. Overnight oats are easy to make, healthy meal prep that is ready to eat when you need bite.
When the no cook oatmeal is combined with almond milk, you have entered into a whole new world of flavor combinations and options. In addition to it, it's extremely easy to prepare and a convenient dish to grab in a hurry.
How do you make overnight oats with almond milk? Soak oats overnight with almond milk using a ratio of 1 part oats to 1½ parts liquid. This basic liquid to overnight oats ratio is adjusted based on preference and mix-ins that you add to the mixture before soaking.
This recipe offers the combined benefit of no cook oatmeal and the savory goodness of almond milk. What's more, it's delicious and offers a rich, creamy and pleasing experience for your taste-buds.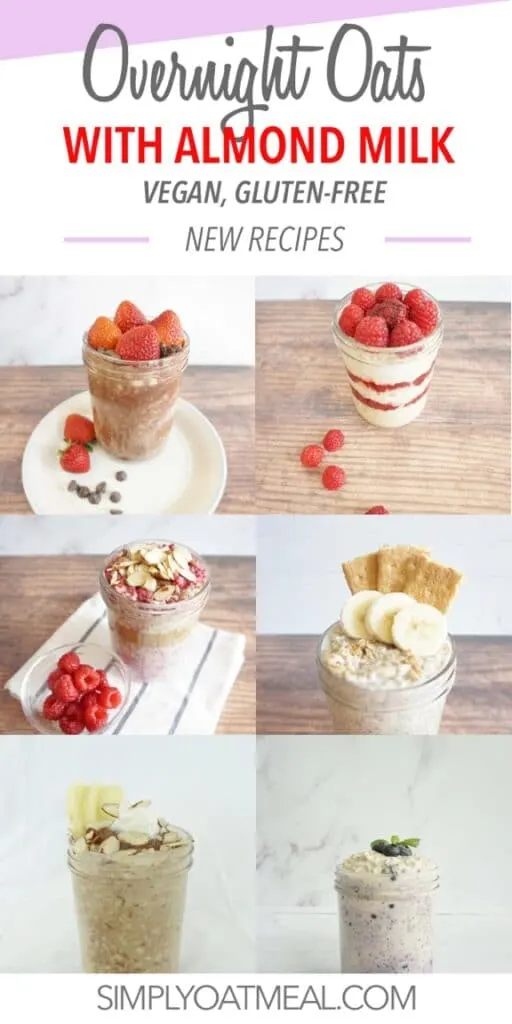 Why make overnight oats with almond milk?
Are you still wondering why you should take the time to prepare and try this recipe? If yes, then please check this section to clear up any doubt.
First of all, most of you are having a hectic work schedule and that's why you may not have adequate time to try complex and time-consuming recipes!
For instance, if a recipe takes around thirty minutes to prepare in the morning, then it will really be very difficult for you to add it to your breakfast table. Thus, you must be looking for something easy to cook and convenient.
As a result, this preparation comes highly recommended. Rest assured that this dish requires the least amount of preparation time, despite being a very convenient dish that offers tremendous taste and nutritional value.
Even if you are going to try this recipe for the first time, you will not encounter any struggle or hassle with zero cooking. All you will have to do is follow my recipe guidelines and you are ready to serve the table with amazingly nutritious and extremely healthy breakfast preparation.
There is one more strong reason I'll definitely suggest you try having this recipe at least once. Sometimes, you may have a breakfast that makes you feel gassy, bloated, and sluggish, this particular overnight oats with almond milk recipe is an exception.
Of course, it will provide an adequate load to your appetite so that you do not feel hungry and it will keep your stomach filled, but it won't leave you feeling sluggish. Instead, you will feel light, active, and energetized after having this utterly delicious and easy breakfast recipe.
Benefits of eating overnight oats with almond milk
This recipe combines the health benefits of oats as well as almond milk.
The best benefit of overnight oats is that it has rich fiber and protein content. Plus, it even contains a great amount of vitamins and minerals including phosphorus, manganese, copper, zinc, iron, and magnesium.
What's more, overnight oats are based on the fermentation process where the oats are soaked in the liquid, almond milk in this case. This process allows the oatmeal to swell up and seep in the liquid so that they turn into a wholesome and satiating meal.
Another key ingredient of this recipe is almond milk, which is rich in vitamin E, which is and important antioxidant that lowers the risk of serious health conditions like heart disease, cancer, and stroke.
Additionally, you will also be amazed to know that almond milk is a potent source of magnesium, one of the most important minerals of our body. Furthermore, almond milk is a perfect substitute for all those people who are lactose intolerant as it does not have any lactose content.
Plus, it's low in carbs and calories. On top of that, it features an amazing nutty and sweet flavor many people thoroughly enjoy.
From an overall note, I'll mention that almond milk and oats are a rich source of vitamins, minerals, and antioxidants. Therefore, each of these ingredients are beneficial for our body.
Tips for making overnight oats with almond milk
No cook oatmeal is customizable with a variety of flavorful combinations. To make the overnight oats with almond milk recipe extra delicious, please make sure to sift through these recommended tips and suggestions.
Oats: It is best to use rolled oats for making overnight oats when preparing no cook oatmeal. Regular rolled oats have been previously steamed and flattened with large machine rollers. The oat flakes have a larger surface area that makes it easier to soak up the liquid, fully hydrate and become soft enough to chew. Steel cut oats are too hard when only soaked; and quick oats become extremely mushy with soaked overnight.
Fruit: Without added flavors, oats tend to be bland and unappealing. Dried, fresh and frozen fruits are the quickest add-in to enhance the taste without cooking. Mash a banana, stir in applesauce and throw in a handful of frozen blueberries for an overnight oats flavor booster.
Nuts: The liquid base in this recipe is almond milk, however you can quickly compliment with a handful of crunchy nuts on top. Consider using a quality brand with minimal preservatives and zero sweeteners, otherwise this simple recipe shows you how to make homemade almond milk in 5 minutes for a quick fix. Nuts are one of the quickest ways to increase protein in oatmeal and add healthy fats to the meal prep.
Sweetener: Adding too much sugar can turn this from a healthy dish into a sugar bomb that mitigates the healthy benefits of eating oatmeal to begin with. Stick with natural sweeteners and watch the amount you add to avoid dousing the dish with empty calories. Maple syrup and honey are great options when used moderately.
Protein: Oats contain plant based protein, however the amount is quite minimal. If you are looking for an increased supplement, you can add a scoop of protein powder to give your body the amino acid boost that your body is seeking.
Gluten free: Oats are a wheat free grain that is naturally gluten free. Due to the risk of cross contamination, it is recommended to purchase certified oats that are free of wheat during the harvesting and packaging process.
Vegan: Stick with using a dairy free milk and plant based yogurt. In addition, honey is an animal byproduct that is a big no-no for vegans, so substitute your favorite sweetener instead.
Make ahead: When mixed with almond milk, overnight oats are a healthy meal prep that is the perfect meal to prepare in advance. Combine the oats with almond milk and store in an overnight oats container for a ready to eat meal.
Storage: Overnight oats do not need to be refrigerated, however leaving them oat will cause fermentation to set in. After one evening, the oats should be placed into the fridge where they will stay fresh for up to 5 days, or you can freeze overnight oats for up to 6 months.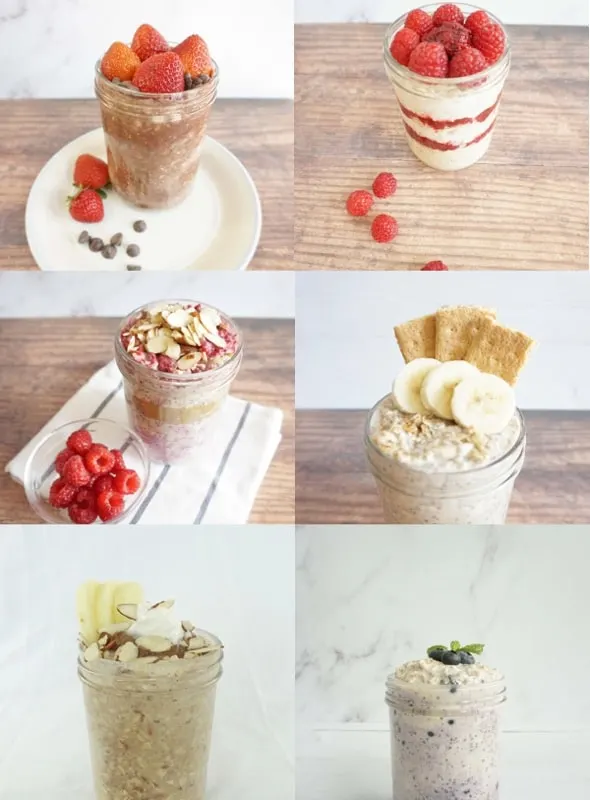 Yield:

1 serving
How To Make Overnight Oats With Almond Milk
Overnight oats with almond milk is a healthy meal prep to eat at any time of day. The no cook recipe is perfect for anyone with a busy schedule.
The ready to eat meal prep is perfect for breakfast or even eaten as an afternoon snack. Garnish with your favorite toppings for a flavorful combination that you will absolutely love..
Ingredients
Overnight Oats With Almond Milk Base Recipe
½ cup rolled oats
1 tablespoon sweetener
¼ teaspoon vanilla extract
Apple Cinnamon
½ cup grated apple
1 tablespoon flax seeds
¼ teaspoon cinnamon
⅛ teaspoon nutmeg
Mashed Banana
½ banana, mashed
¼ cup chopped walnuts
1 tablespoon chia seeds
¼ teaspoon ground cinnamon
Blueberry Almond
½ cup blueberries
2 tablespoons sliced almonds
Raspberry Jam
2 tablespoons raspberry chia jam
Strawberry Chocolate
½ cup fresh or frozen strawberries
2 tablespoons almond yogurt
1 tablespoon cocoa powder
1 tablespoon chia seeds
Instructions
Mix the ingredients in a small cup, bowl or mason jar. Stir well so the oats are fully combined with the mix-ins.
Transfer to an airtight container and keep the container in the fridge for a minimum of 12 hours so the oats can fully soak.
The next day, stir the no cook oatmeal and serve hot or cold. Overnight oats can be warmed on the stovetop for 3 minutes or heated in the microwave for a minute.
If necessary, add a splash of almond milk to loosen the consistency, and garnish with your choice of oatmeal toppings.
Notes
To make it vegan, use dairy-free almond milk, plant-based almond yogurt and avoid using honey as a sweetener.
To make it gluten-free, use certified gluten-free oats.
To make it sugar-free, mash or puree fruit into the base mixture for a natural way to keep the sweetness to a minimum.
To maintain freshness, store the oatmeal mixture in an airtight sealed container. Overnight oats will keep fresh in the fridge for up to 5 days or in the freezer for up to 6 months.
Recommended Products
As an Amazon Associate and member of other affiliate programs, I earn from qualifying purchases.
Nutrition Information:
Yield:
1
Serving Size:
1
Amount Per Serving:
Calories:

196
Total Fat:

3g
Saturated Fat:

1g
Trans Fat:

0g
Unsaturated Fat:

2g
Cholesterol:

3mg
Sodium:

23mg
Carbohydrates:

31g
Fiber:

4g
Sugar:

4g
Protein:

11g
Please note that the nutrition label provided is a rough estimate based on the basic overnight oats recipe. Overall nutrition will vary based on the specific ingredients and amounts you use. This information should not be considered a valid substitute for any professional nutritionist's advice. The nutrition value is for one serving without any additional toppings.
Best Overnight Oats With Almond Milk
Make overnight oats with almond milk for a rich, creamy and nutritious dish. This recipe is packed with nutrition, and features a variety of flavor combination so that you never get bored with the same tastes.
The healthy meal prep is ready to eat at any time of day. Mix the ingredients and place into a storage container for an easy grab and go meal.