*This post may contain affiliate links. Please see my
disclosure
to learn more.
Looking for healthy overnight oats recipes and don't quite know where to get started? Then you have come to the right place, here are the 50 best overnight oats recipes that you need to put to the test!
There are actually two unique and interesting factors about the overnight oats. They require no complex cooking techniques and are so versatile that they can include in a wide variety of tasty recipe combinations.
I have compiled a total of 50 best overnight oats recipes for you to try! Please feel free to explore the different overnight oats recipes and ensure a truly elevated taste experience for all.
But, before jumping into these recipes outright, let's talk about what are overnight oats, tips for making and storing, and much more. Afterwards, I hope you share your favorites with us in the comments below, it would be great to hear your best-loved!
What are overnight oats?
Overnight oats are a no cook method to preparing oatmeal. Oats are soaked in liquid overnight and are ready to eat the every next day.
Overnight oats are an enticing breakfast option that does not need to be cooked. It can also be a perfect choice for quick snack at any time of day.
Overnight oats are extremely easy to prepare as they require no cooking hassle at all! Plus, its nutritional profile is another added benefit for your body.
To give you a quick intro to overnight oats, it's the no-cook version of oatmeal. As you probably know that whole grain oatmeal can be eaten raw.
However, raw oats are quite difficult to digest, and it can result in some health related issues like constipation. That's why it's preferred to either cook oatmeal with liquid on the conventional stove or in the microwave.
But, there is one more option available too! You can mix oats with some liquids and other add-ins, and then let it rest in the refrigerator overnight.
This second option of making oats are known as overnight oats, since they are left to soak in a basic overnight oats ratio of 2:1 liquid to oats. Now, when you soak oatmeals in liquid for over 12 hours overnight, it reduces the phytic acid in the oats and the texture becomes softer, creamier, and smoother.
In the morning, the overnight oats will be absolutely ready to serve your hungry stomach. Now, to elevate the taste of the overnight oats, you can incorporate mouthwatering toppings and mix-ins.
I've already appended the 50 best overnight oats recipes that will help you explore some of the excellent ways of making overnight oats. These recipes are so ideal when it comes to fulfilling the diverse taste preference of all.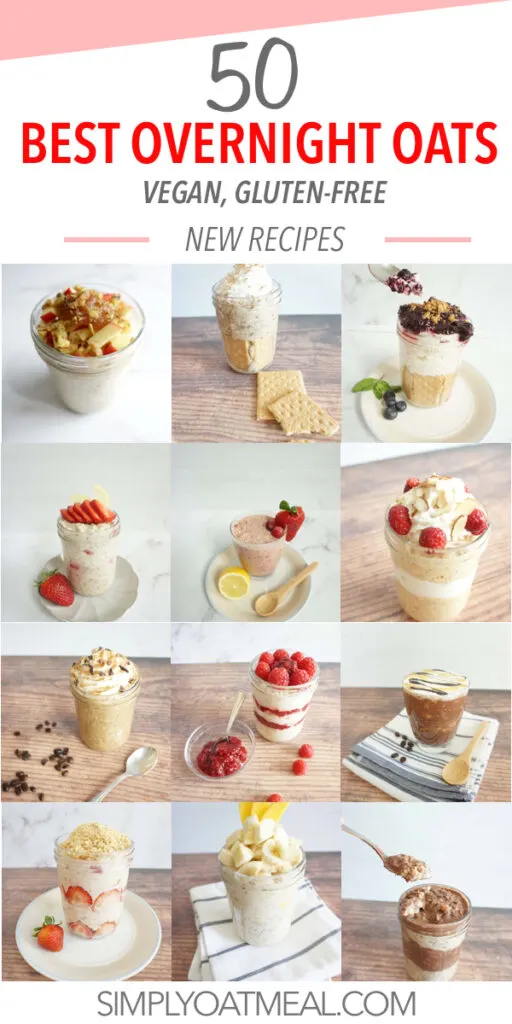 Tips For Making Overnight Oats
In the previous sections, I have already covered many key facts about overnight oats. However, the list of details can go on indefinitely.
Depending on the add-ins, you can even make vegan overnight oats as well! If prepared with wholesome and nutritious ingredients, then overnight oats are a healthy meal prep that you can count on filling you up.
Heavenly delicious overnight oats recipes will not only fulfill your hungry appetite, but they will also extend a myriad of incredible health benefits that you can't simply ignore!
The high fiber content in oatmeal helps you feel full for extended amounts of time, so overnight oats have been proven to be good for weight loss. In fact, the oatmeal diet is an entire weight loss regimen centered around eating oats for every meal.
Since the basis for each of these recipes is dependent on soaking the oats, you will no longer face any digestion issues! Overnight oats have a soft and smooth texture that is easy to digest while the high fiber content helps improve bowel movements.
Let's now quickly talk about tips that will make it delicious every time.
Choice of Oats
The key ingredient for overnight oats is nothing but oats and liquid. That's why you will have to be extra careful when it comes to picking the type of oats for making overnight oats.
Well, there are different types of oats available in the market, starting with the conventional steel cut oats, rolled oats and quick oats.
Among the different types of available oat variants, you are recommended to use the old fashioned rolled oats for preparing overnight oats. Of course, the plain regular oats belong to the traditional route.
This kind of oats has not undergone any advanced processing. That's why they hold a better nutritional value compared to instant oats or quick oats.
One of the most popular oatmeal forms, steel cut oats, are not commonly recommended for soaking overnight. The kernel is too thick and chewy when soaked, therefore it is best to stick with a thinned flake style oatmeal.
Note, you can use other types of oats as well when preparing overnight oats. However, traditional old-fashioned oats are the most recommended choice for soaking.
Ideal Mix-ins
Now, since you have already picked the right type of oats, let's now focus on the mix-ins. For example, you can use either water, milk or dairy free alternative or even juice to soak oatmeal.
If you want to avoid dairy products, or even keep it vegan, then it's recommended to use alternative milk options. Other than that, you can even use water too for soaking overnight oats.
Now, the most interesting part of making overnight oats, it's time to add the ideal mix-ins for a better and more elevated taste.
Common spices like ginger, cardamom, and cinnamon are a good fit for preparing overnight oats. You can add a quarter teaspoon of cinnamon, ginger, and cardamom powder to the recipe for a delightful spice.
Other mix-in options include dried or fresh fruits, extract, sweeteners, and jams or jellies. Likewise, you can even add unsweetened cocoa powder and a pinch of espresso powder as well.
Flaxseeds, hempseed and chia seeds have a strong nutritional profile. And, incorporate nuts and nut butters for added fats and flavor.
All in all, you can vary the add-ins for each preparation so that you never get tired of eating the same flavors for overnight oatmeal preparations.
Add Some Toppings
Toppings are an excellent way to elevate the taste of your dish to a completely new level. So, if are you looking for the best oatmeal topping options to pour over overnight oats, then please quickly check this section for all the details.
If you crave the addition of a little bit of crunch to your overnight oat, then you are recommended to add the following toppings as an add-on, such as almonds, cashews, toasted coconut flakes, pumpkin seeds, and hazelnuts. Similarly, you can add a spoonful of nut butter to boost the plant based protein value.
To incorporate a refreshing twist to the dish, you can add some fresh fruit slices, such as slices of banana, a handful of berries, and ripe stone fruits, etc.
Similarly, if you wish to fulfill the sweet tooth cravings, then you can add a spoonful of maple syrup, date syrup, or honey will go a long way.
As you can see, endless options exist when you start to combine your favorite toppings with creamy and delicious soaked oats.
Tips For Storing Overnight Oats
It is fairly common to store oatmeal in a dry storage area with cool air circulation and minimal direct light. Most dried grains are stored in the manner.
But storing overnight oats is a bit different, thats because when the oats are hydrated they create a suitable environment for bacteria to grow.
Unless you plan to ferment the grain, overnight oats need to be refrigerated to reduce the risk of a potentially hazardous food borne illness. This is the most common practice, and the oats are safe and ready to eat the very next day.
Make sure to use a good-quality container, and if it has an airtight lid then thats even better. Our favorites are these Wide Mouth Mason Jars because they make it easy to spoon the corners and the size is perfect for a fulfilling meal prep.
That being said, we have put together a list of the best overnight oats containers so you can check out a few more options to find the right fit for you.
If you are meal prepping for the longterm, then you can freeze overnight oats. It's best to stick with individual portions so that it is easy to serve instead of having to thaw out a large batch each time.
Frozen overnight oats thaw really nicely and taste great when eaten.
Quick side note, its recommended to make the oats as plain as possible and then add the fixings just before serving. Some add-ins freeze better than others, so why take the risk of serving mushy or soggy toppings.
50 Best Overnight Oats Recipes
All the details about overnight oats have been covered in the sections above. If you are now ready to try them, then take a quick look at the 50 best overnight oats recipes shared below.
In addition to it, I have even mentioned quick tips for making and storing overnight oats as well. So, do not waste any more time! Please follow the above tips to make your favorite no cook oatmeal recipes of all time!